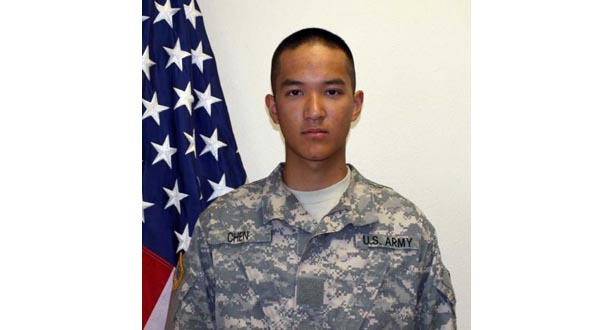 Asian-American Military Suicides Put Spotlight on Leaders
Prompted by the high-profile extreme hazing of two Chinese-American servicemen last year that resulted in their suicides, Asian-American leaders are calling on the military to take action against unfettered harassment of minorities.
New America Media reports New York City Councilmember Margaret Chin issued a resolution that better cultural training be taught by the Army. One of the soldiers, Pvt. Danny Chen, was born and raised in lower Manhattan. He was, according to New York Magazine, the only Asian-American in his squad and subjugated to racial slurs and forced to undergo punishments that included crawling on gravel while being pelted by rocks thrown by his superiors.
"People crack jokes about Chinese people all the time," he wrote in one of his letters home to his mother, who doesn't speak English, and which was secured by New York Magazine. "I'm running out of jokes to come back at them." He was 19.
California Congressmembers Judy Chu, Mike Honda, Barbara Lee and 10 others added their signatures to a petition asking the House Armed Services Committee to look into the hazings. The letter further details instances of abuse against Asian-Americans in the military, including one soldier who set himself ablaze while stationed in Okinawa, Japan, after bearing a torrent of hazing from fellow Marines.
Lance Cpl. Harry Lew, 21, shot himself in the head after being beaten by fellow Marines after he fell asleep for the fourth time while on guard duty one night, New America Media and New York Magazine report. In response to these suicides (and possibly that of African-American Army Spc. Brushaun Anderson, who shot himself in an outhouse after being overly punished), Gen. Martin Dempsey, chairman of the Joint Chiefs of Staff, wrote on his social media feeds, "I want to be very clear: Hazing is simply intolerable. It undermines our values, tarnishes our profession and erodes the trust that bonds us."
Investigators are currently pursuing charges against over a dozen men between the two branches of military for their possible roles that lead to these soldiers' deaths.
Do you know anyone in the military or have you served? Share your stories in the comments.
Photo: U.S. Army handout
Tags: Barbara Lee, Brushaun Anderson, Danny Chen, Harry Lew, hazing, House Armed Services Committee, Judy Chu, Martin Dempsey, Mike Honda, military suicide