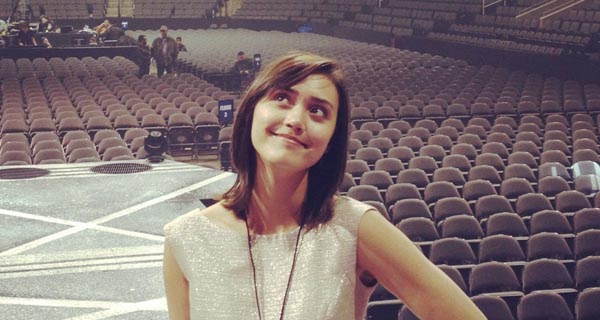 Dia Frampton's Style Evolution
Dia Frampton, finalist on the first season of NBC's talent competition show, The Voice, now has a mini-web series called "Dia's Next Stage" and published by NBC. The five-part series details Dia's life in the music industry, following her success on the television show, as well as feature live music from Frampton. Dia is currently on tour with her former coach from the show, Blake Shelton, and promoting her already successful album RED.
The first episode, titled "Style Evolution," found below, follows Frampton as she goes shopping; first for several televised events, then for casual wear at American Eagle Outfitters. The episode also features a live performance of Dia's first single, "The Broken Ones," off her new album, a song about loving people, despite their flaws. The segment follows Dia to dress designer Sue Wong for her formal wear, and then takes us to where the self-proclaimed "jeans and T-shirt girl" searches for selections that suit her fun, quirky, girly wardrobe.
When talking about her own fashion, Dia laughs and explains, "My fashion sense … or lack thereof … I copy my older sister a lot," referring to her sister Meg Frampton, who plays in Dia's band. "I like to copy people. And I thought it might be cool if somebody copies me someday."
Dia also likes clothing with a quirky vintage feel, searching second-hand stores, rather than upscale, overwhelming shopping malls. In a recent interview on her blog, Dia writes about her favorite places to shop. "I like to shop in random second-hand stores. They smell funny, but they always have great, one-of-a-kind finds. I like Anthropologie a lot, too. When they're on sale! I get really overwhelmed in shopping malls though … It's good to have a friend there to help pick things out!"
Find Dia Frampton on Twitter: @DiaFramps, and on Facebook at: facebook.com/diaframps.
Photo: Dia Frampton's Twitter
Tags: Blake Shelton, Dia Frampton, Fashion, music, NBC, style, The Voice