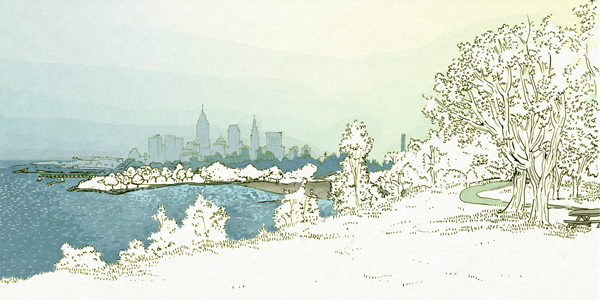 Painting a Neutral Character
Cleveland freelance artist Julia Kuo takes us through her art and how being Taiwanese-American is an asset.
When Ezra Jack Keats first published "The Snowy Day" it caused quite a stir. There was nothing controversial about the story's content, a young boy's first encounter with snow. What did cause a stir was the boy's dark skin.
Today, thankfully, a book with a non-white character is noncontroversial, though it is still uncommon, which is precisely why Julia Kuo uses darker colors in her illustrations. "I always use a darker character as a neutral character," she says, explaining neutral characters mean race has nothing to do with their role and they are not used for a certain purpose or to perpetuate a stereotype. "This is the way that I look, and I think that the more often that people can see different characters being used in very neutral ways, the more acceptable those will be."
Kuo is a 26-year-old second-generation American who strongly embraces her Taiwanese heritage. She spent a year in Taiwan when she was 5 years old and regularly returned over school breaks and work vacation. She has been spending longer periods of time overseas since her parents moved back there three years ago.
Born in a mostly Taiwanese Asian community in San Fernando Valley, Calif., Kuo says she had the luxury of never feeling like a minority. "I never felt inhibited, ever. If anything," she says, "I've always felt I've been able to bring more to the table with my background just because I grew up with influences that other people here generally don't have."
One of those influences was access to Giant Robot magazine and being able to read about the great things Asian Americans were doing. "I feel like I'm part of that voice because I've been influenced by that," she say. "So I guess I've never felt limited, and I've always felt like it's a special group to be part of."
Still, she says she didn't notice as a child why none of the children in illustrated books looked like her. Neither did many of the friends she asked when she was preparing to be a panelist last November for the National Council of Teachers of English, an annual conference for high school and college English teachers.
Kuo was invited to speak as part of a panel of minority children's authors and illustrators. She illustrated the book "Clara Lee and the Apple Pie Dream," a story about an 8-year-old Korean-American girl who wants to be Little Miss Apple Pie. The School Library Journal gave the book a positive review, in part because Clara Lee acts just like her classmates despite the cultural differences, thereby making her culture a learning opportunity for both classmates and readers.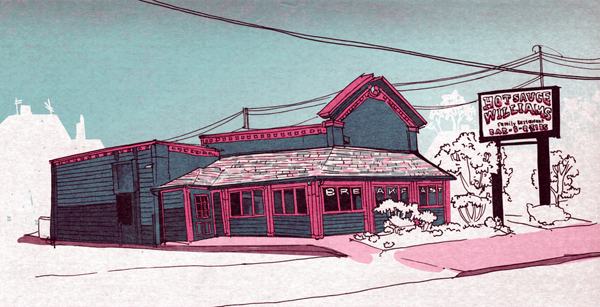 An art director she worked for told her he specifically looks for minorities because their different experiences give mainstream society additional perspectives and perceptions. The more those different cultural elements are introduced without being demeaning or stereotypical, the more Kuo says they'll become acceptable. Take the Pixar movie Up, for example, Kuo says excitedly. "Even though (the protagonist) Russell's Asian, that has nothing to do with his character. He's a young, cute boy – he just happens to be Asian. Your race doesn't define who you are."
Race doesn't define Kuo's work, either. She's illustrated children's books, cards, wedding invitations, posters, CD covers, stories in magazines like Hyphen and newspapers like the New York Times and even cake toppers for a friend's wedding. "I think, overall, I still really like cute and pretty things," she says of her style, in general, "and that will probably come though."
Kuo started drawing young and took art classes all through high school. She went to Washington University in St. Louis to study business but continued taking art classes, so many that by the end of her freshman year, she was told she couldn't take any more unless she was a major. She opted to double-major in marketing and illustration. Kuo says she was resistant at first because she feared the risk associated with being an artist as compared to a businesswoman, including lack of steady work and health insurance. Her parents worried for her well being, too. But they told her, "'As long as you're happy, just do what you want,'" Kuo says. "And it kind of just came together."
Two weeks after graduation, she moved to Cleveland and started working as a line designer at American Greetings. She continued freelancing on the side, something she had done since her senior year, before reaching a point where she decided to become a full-time freelance illustrator.
A great group of friends has kept her in Cleveland, although she recognizes she probably won't stay in here forever. So during a time when she wasn't getting much work, she began planning a personal project that would introduce a new style to her portfolio. "I wanted to do a more realistic style," she says. "I love Cleveland, and I knew that I wouldn't be here forever, so I wanted my own personal record of the things that I liked here. And I also wanted it to be something that was one big body of work. All of those things put together."
Once confident in her idea, she started drawing. The end result: 100 days in Cleveland. Kuo, with her pen, sketchbook and camera in hand, set out to capture some of Cleveland's most famous landmarks – the Rock and Roll Hall of Fame and Severance Hall – as well as the obscure – a dear friend's apartment, an alpaca from the Geauga County Fair and raspberries from Rosby's Greenhouse and Raspberry Farm. She at first drew the images on site, but transitioned to taking pictures to draw later then scan and color in Adobe Photoshop, a process she says took between two to three hours apiece.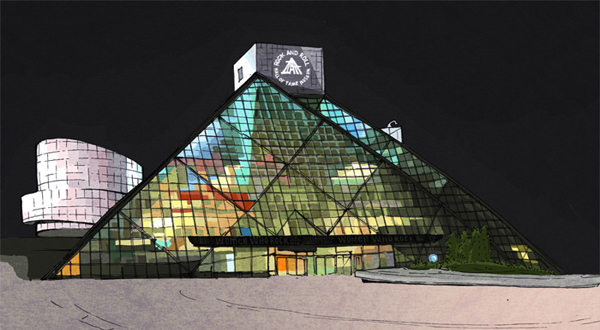 Everything snowballed after that. The 100 days project soon developed a following and Kuo says, laughing, she landed on the local blog and press circuit for her 15 minutes of fame.
"So much came out of it," she chimes. "I always knew it would be a good thing, even if it took me a really long time." She was exhausted and ready to finish by the time she drew her apartment for Day 100.
That project led to new ones. Kuo says clients have contacted her for work, and she is selling prints on Etsy (the majority of sales are Cleveland-specific pictures she suspects are from residents or people with Cleveland roots) and some of her images are now featured in the book "New to Cleveland: A Guide to (Re)Discovering the City," written by Justin Glanville.
Kuo says her commercial illustrations are tied to a narrative that doesn't leave a whole lot of opportunity for her to insert her own opinions or beliefs. "I think it's harder to do something like that," she explains, "but I think if I could describe how I feel about it, it would be that it's very special to be Asian American, second generation. I guess the images I make are just a celebration of how I'm feeling about being part of that."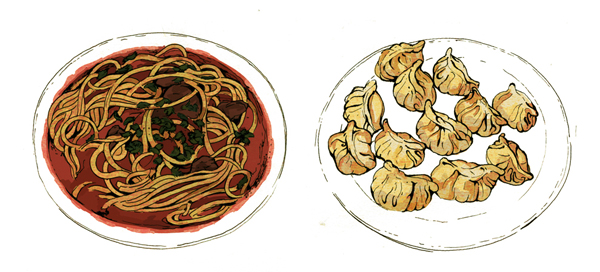 Photos: Julia Kuo's Tumblr page, used with permission
Updates: Kuo's university was originally published as "Washington University." It has been to changed for clarity to "Washington University in St. Louis."
Tags: 100 days in Cleveland, Clara Lee and the Apple Pie Dream, Ezra Jack Keats, Julia Kuo, Justin Glanville, National Council of Teachers of English, New to Cleveland: A Guide to (Re)Discovering the City, The Snowy Day