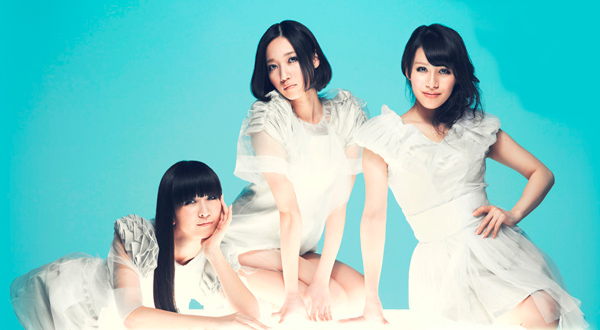 Perfume and the Pursuit of International Success
They're sugary-sweet pop future robots, but can their sound survive the trip overseas?
Perfume are big in Japan. They're everywhere. Performing in arenas and guest starring on TV shows, as well as being featured in commercials for various products like Pepsi, alcoholic beverages and cars. Their image in Japan is one that is cute and stylish. Commercials usually feature the trio wearing matching outfits and performing in some sort of synchronized dance with a product in their hands. The release of the Disney-Pixar film Cars 2 last year gave international audiences a glimpse of Perfume's sound by featuring the song "Polyrythm" on its soundtrack.
Universal Music Group announced it will attempt to bring Perfume, a J-pop trio, to an international audience. Reflecting on past attempts of trying to the same, Universal says it will not try to westernize Perfume but instead focus on their "Japan-ness," an image that has been described by a representative of Universal in a recent Reuters article as being: "mysterious, futuristic, robotic and doll-type."
The chances of international success for Perfume are hard to predict. Despite having a reputation for being ahead of things, J-pop groups are still years behind current music trends elsewhere in the world. Perfume's producer is Yasutaka Nakata, a popular electronic music composer and DJ. Since he began working with Perfume in 2003, he has given the group its signature sound – sugary-sweet electronic music influenced by elements of disco, bossa nova and new wave. While most of the world has moved away from auto-tune, Perfume relies heavily on it, using it on almost every song, another trademark of Nakata's production.
Lyrically Perfume may use a few awkward English phrases, but the majority of their songs are sung in Japanese. The last and only time a Japanese language song charted in America was in 1963 for three weeks when Kyu Sakamoto released the song "Sukiyaki."
It's possible, though, that audiences may enjoy Perfume in contrast to the current trends of mainstream pop music. One of the last girl groups to have popularity in America was The Pussycat Dolls. It could be possible that America is once again ready for a girl group – just this time from another country and singing in a foreign language.
Perfume's latest album, JPN, is available on iTunes globally.
Photo: Perfume's Japanese website
Tags: Cars 2, Kyu Sakamoto, Perfume, Universal Music Group, Yasutaka Nakata