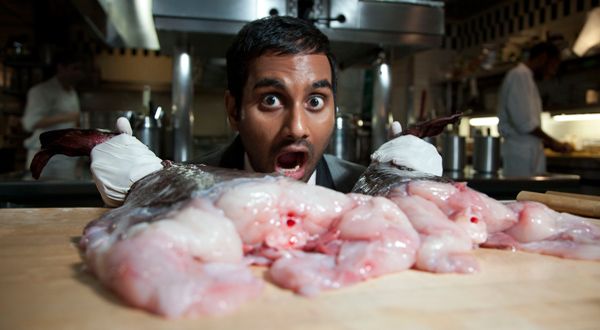 Aziz Ansari is One Funny Man
An Indian-American boy from the south splits sides with his standup nationwide
"Imagine the cutest brown puppy in the world but in human form. That was me. What grown man wouldn't want to f*** me?"
That's Aziz Ansari, Indian-American comedian perhaps best known for his role as Tom Haverford on NBC's Parks and Recreation. His latest comedy tour hit Ohio recently, and Dumpling was among the hundreds of students, faculty and community members jamming the MAC Center at Kent State University to get a glimpse of Ansari's wholly unique take on standup comedy.
Ansari's new bits revolve primarily around relationships, babies and male sex organs. It crossed the line from child molestation – Paraphrased, "When I was 10, my parents let me go to the mall, to the arcade. And I never got molested. Not even once." – to marriage – "You knew each other for three months before getting married?" he addresses an audience member. "I have a sweater that's like 2 years old, and I look at it like, 'What was I thinking? That is one ugly sweater.' I can't commit my life to that one sweater, and you got married after three months?!"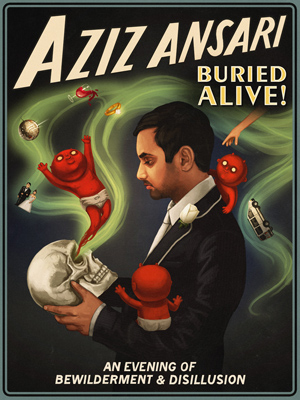 Born in South Carolina to Indian immigrants, Ansari attended New York University's Stern School of Business, where he studied marketing and graduated in 2004. Throughout his time there, though, Ansari hit the local comedy clubs to hone his craft and do something outside the bounds of a 9-to-5 corporate environment. According to Ansari, his father, a gastroenterologist, who Ansari makes fun of for only making "shitty movies," is rarely satisfied with his son's accomplishments.
In one bit, Ansari talks about opening for President Barack Obama's March 2012 fundraiser in New York City. During Obama's speech, the president even gave a shout-out to Ansari, who also rolls with celebrities such as Jay-Z and Kanye West. Going a step further, Ansari says the president "burned" him by saying he had more Twitter followers than Ansari. After Ansari told his father, he says his dad wondered, "Why don't you have more Twitter followers than the president?" Some parents are never satisfied, even when Ansari has almost 2 million followers of his own.
Emulating fellow comedian Louis C.K., Ansari released a comedy video directly on his own website without a larger studio's support. Dangerously Delicious is a $5 download that includes his hour-long standup sketch and a ZIP archive of photos and posters as digital bonus content. It also includes a restaurant bump for Cleveland's own Greenhouse Tavern (Dumpling is headquartered in Cleveland) and other locations he went to while on the Dangerously Delicious tour. He even asks his Twitter followers in a README file to design a cover for his video and Tweet him using the symbol #AzizDDCover. We only found two respondents.
Ansari's current comedy tour, Buried Alive, features new content outside of Dangerously Delicious. Upcoming shows include sold out venues at Royal Oak Theater in Milwaukee and Wilbur Theater in Boston. You can catch Ansari on his Buried Alive tour, on Parks and Recreation and voicing a character in the film Ice Age: Continental Drift. And if you're to believe a bit in his current tour, as an extra in the next Tyler Perry movie, which he apparently bought the privilege to at a charity auction while drinking too much with Seal. We can't make this up.
Planning to see Aziz Ansari perform in a city near you? Tell us where in the comments.
Feature Photo: Ruvan Wijesooriya http://www.ruvan.com/
Tags: Aziz Ansari, Buried Alive, Dangerously Delicious, Ice Age: Continental Drift, Jay-Z, Kanye West, Louis C.K., Parks and Recreation