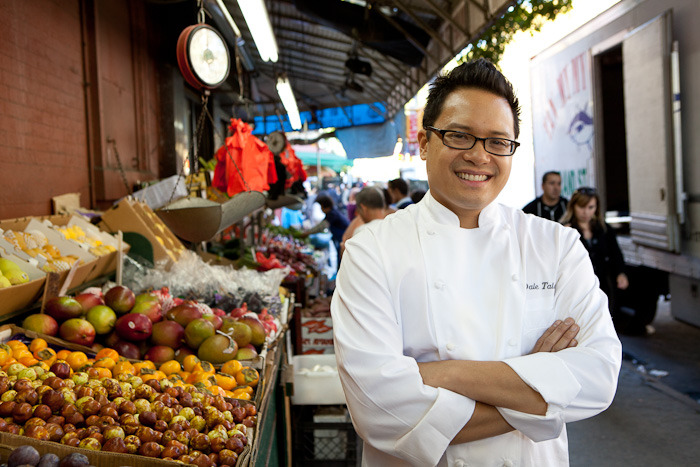 Dale Talde: Our Own Kind of Asian Food
The Village Voice featured Asian-American chef Dale Talde and his new restaurant, Pork Slope, in a recent interview. Along with the new bar opening in the Park Slope area of Brooklyn, New York, Dale also owns the restaurant Talde, a new representation of Asian American food for the area and one that Talde enjoys sharing with familiar faces.

"I see the same faces," he says. "Every Wednesday at 5 o' clock, the same family, they have a beautiful young boy; they come in for date night. That to me is the highest compliment, when they choose your space to have date night and you know you can get them the same beer, and you can either turn them on to something new, or you can say, 'Same thing as last week? Fried rice and red Hitachino ale?'"

Talde and The Village Voice also delved into various culinary categories, such as his Asian noodle preferences, and the tools he can't live without in his kitchen. Ramen and soba aren't simply noodles in Talde's book: you can't compare the two. "To me, ramen and soba are too different," he told the Voice. "Ramen is always, for me, good when it's cold outside. I like soba when it's ice cold, it's blazing hot outside (funny because we're putting a fresh soba dish on the menu at Talde in about a week – it's going to be one of our vegetarian options: kimchi, ramps, smoked tofu, house-made black sesame sauce)." And when it comes to cooking, cutlery is crucial. When asked what tool he couldn't live without in the kitchen, Talde replied, "My knives. I am so attached to my knives. It's ridiculous."

Whether he's tossing tater tots at Pork Slope, or stir frying noodles, Talde says it's all about doing what he loves, and improving at his craft. "I'm just trying to get better every day," he continued. "That's the goal. What's new is the same thing I was telling myself 10 years ago. It doesn't matter what happened yesterday; it's about getting better every day."

He says Asian-American chefs are striving to do the same in the culinary world. He speaks of his friend, chef Paul Qui who is also creating his own style of food, bringing his Filipino heritage with him. Talde applauds Qui, who is "just starting to become his own chef with his own style and his stamp on flavor and food. Now he's able to express that. And that's kind of where we are, as Asian Americans. We are just now kind of becoming our own classification."

Follow Dale Talde on Twitter @Dale Talde

Photo: Dale Talde's Website


jump to top

Tweet

This entry was posted in Meal Ticket and tagged Asian American, chefs, Dale Talde, food, Paul Qui, Pork Slope, ramen, restaurants, soba, Top Chef. Bookmark the permalink.