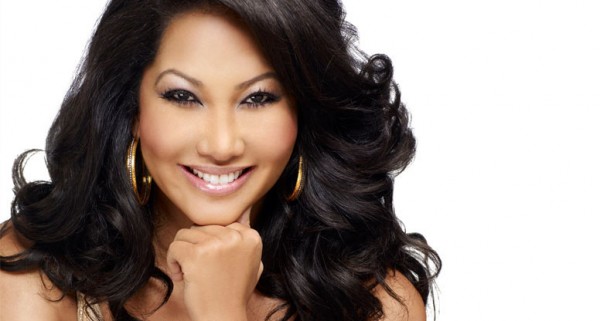 Kimora Lee Simmons: Birthday Celebration Review
Dumpling's beauty department is celebrating style-savvy businesswoman Kimora Lee Simmons' birthday May 4 by showcasing some of the fabulous fashionista's most recent pursuits — her favorite fashions of 36, her new skincare line, among other happenings.
To begin the celebration, CelebBuzz featured KLS's top looks of her 36th year from a blush-colored mini dress to the classic little black dress. Our favorite is the stunning cobalt version of the LBD worn by Kimora to the celebration of her cover shoot for Social Life Magazine. She says, "My statement with this killer embellished mini is this: Sometimes your LBD isn't black at all. The cobalt with tonal embellishment and gathering made this a 'must' for me. Minimal jewelry and simple footwear – my trust silver stilettos – let the dress speak for itself."
Also, last month Kimora launched her new skincare line, Shinto Clinical, that's all about keeping skin youthful, using a fusion of both Eastern and Western approaches to healthy skin. In an interview with Canada.com bloggers, she explains, "There are certain nutrients we need to fortify our skin and maintain hydration. Some of these nutrients are obtained through diet – which is more of an Eastern approach. It's maybe more of a Western approach to skin maintenance to apply serums and creams and affect skin on that level. No one is right or wrong. Ultimately, for women in our era, it's about lifestyle and what fits best in your life. Incorporating skin positive foods in our diet AND finding the right products to apply are both important."
As an early birthday treat, Kimora was honored by the East West Players Theatre April 30, receiving a Visionary Award for "raising the visibility of Asian Pacific Americans as trendsetters on a global scale," according to BroadwayWorld. On her blog, she writes, "The evening was a humbling experience. Being surrounded by so much talent and a group of people so committed to celebrating diversity was invigorating."
Happy 37th Birthday, Kimora! Here's to many more years in the Fab Lane! Follow Kimora on Twitter or her official website.
Photo Credit: Kimora Lee Simmons' Official Website
Tags: birthday, CelebBuzz, East West Theater, Fashion, Kimora Lee Simmons, KLS, review, shinto clinical