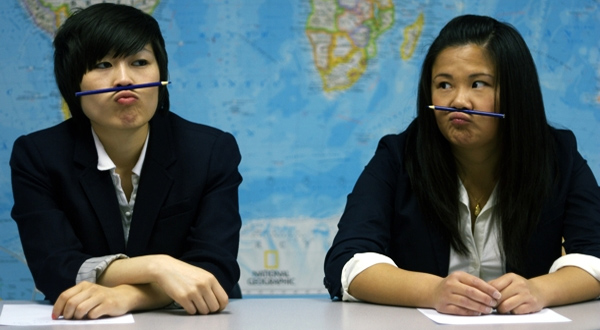 Jenny Yang Reorients Herself with Comedy
From public affairs to dingy comedy halls, Jenny Yang explores the creative life
Jenny Yang hated her bowl cut. The comedienne (above, right) reaffirmed this conviction while scanning family photos. From there, she created the Asian Bowl Cuts Tumblr blog. It's this oft tongue-in-cheek entrepreneurism and sense of identity that supported Yang when she quit her job and began working "a mix of hustles." And this latest hustle is her greatest yet.
Conceived during a Skype meeting with fellow funny person, Seattle comedian Yola Lu, Dis/orient/ed Comedy is an all-female Asian-American stand-up extravaganza set to take place at the David Henry Hwang Theater in Los Angeles July 14. The premise is simple: take a diverse group of women from one of the most underrepresented demographics and put them on stage for a night of laughs and subtle politics.
"I just wanted to connect and have some kind of fellowship and sisterhood, I think," Yang says via Skype of contacting Lu after finding her in a Northwest Asian Weekly article in 2011. "So we actually had our own little Skype meeting, and we just kind of chatted about how we got started and got to know each other. And I said it sort of half joking and half serious. I said, 'Some day, we're going to do a show together, and it'll be all these amazing Asian-American women, and we won't be freaks.'"
A few months later, Lu put Yang's invitation to the test. "She brought up one day wanting to put together an all-female Asian-American comedy show," Lu says via email, "and a few months later, I reached out to her and was like, 'Are you serious about this? Because if you are, let's do it.'"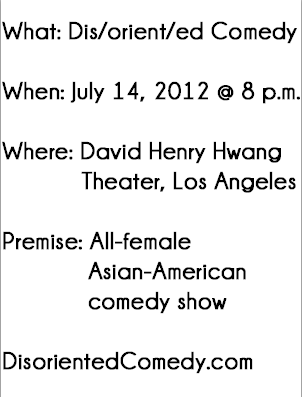 From there, Yang contacted her friend, actor and comedian Atsuko Okatsuka about joining the initiative as a third co-producer. She accepted. "When Jenny approached me with the idea of putting on a show that tours and showcases different Asian-American female comediennes all over the country," Okatsuka recalls via email, "I found it a great idea. How many more of us are out there? How many more of us are out there in 'hiding' or need the little extra push to remind themselves that we can be funny?"
Yang says she looked into other all-female Asian-American comedy shows and, apart from "one random stand-up comedy show 20 years ago maybe, no one has ever put together" this kind of event. As part of the show, comedians spanning the breadth of Asian America, from South to East Asian heritages, will perform. Seven women plus the three co-producers round out the line up, including Monrok, winner of the 2009 California Funniest Female Contest, and Kyle Mizono, co-producer of Sad People Talking at NOLA's in Los Angeles.
The cast won't necessarily be talking exclusively about being Asian-American, Yang says. "We're showcasing what we want to talk about and showing the variety of things that we can be but all in a funny way. … We're so invisible, you don't even think about us. So for us to actually amass ourselves and say this is what we're doing, it surprises people. Like, why would you do this? It's like, well, why not?"
Creative Living
In 2011, after graduating with a masters in urban planning from University of California, Los Angeles, and spending more than six years in the public affairs arena, Yang quit her job and committed herself full time to stand-up comedy and a side business she runs organizing home and office spaces called ORGANIZED. By Jenny. After taking her first comedy class in 2009, Yang knew this was something that, while difficult, she wanted to continue. This is also where she met Okatsuka.
"You know, my first foray into stand-up was taking an all-female stand-up comedy class here in Los Angeles," Yang explains. "And it was basically all [a] majority [of] blonde women, maybe one half-black woman and then me and Atsuko. And I was like, thank God I get along with her, cause there's an assumption we might have to be friends. And she was great."
Growing up an immigrant child from Taiwan in Torrance, Calif., Yang's parents expected a lot from her. In a blog post, she recounts coming out to her parents about wanting to do stand-up for a living. "Something that is typically considered frivolous, like comedy and joke-telling, was probably not what my parents had in mind for me [when] we moved from Taiwan when I was 5 years old," she writes. "… What I did realize was that I could still feel like I was engaging with them and honoring my relationship with them by letting them know about this change in my life. I didn't have to feel like my self-worth was pinned onto their support of my decision."
This creative side of Yang's life often leads her in many directions. In order to better explore her own creative processes, while engaging her community, Yang developed The Creative Life Podcast, a roughly hour-long conversation she conducts with various Asian-American artists, journalists, singers and producers regarding the methodology behind their crafts.
"It's both very personal and community-oriented, the process of getting yourself prepared and putting yourself out there as a creative entrepreneur," Yang says. "… It really does take a level of courage and confidence and belief in yourself that you have to build, either through self-reflection or conversations with other people you know will support you, to get you to that place."
Throughout the course of the podcast's life so far, Yang interviewed Jocelyn "Joz" Wang, co-editor for 8Asians.com, Steve Nguyen of ChannelAPA.com, and Sarah Negahdari, front-woman for band The Happy Hollows, to name a few. The show continues to focus on Asian-American creative types, and Yang says she has half a dozen or so shows to come.
"I think for me," she says, "this last year of doing that podcast, of having these conversations recorded, it's been such an amazing aid in my development and focusing what I might want to do, sort of leaving a career in public affairs, for the time being, and taking a go at trying to make a living at being a writer and performer."
Which leads full circle back to Dis/orient/ed Comedy. Yang was a top-three finalist in this year's California's Funniest Female Contest, an honor she's humbled to receive but also questions the premise of. "I think it's an interesting story," she explains, "and it's great to have attention paid to the fact that women are funny, but what's sad about it is that there's a need to have to talk about it." She doesn't think funny women should be a novel suggestion but a truism. Women are funny. And Asian-American women are even funnier.
"For us to say that this is a show only about Asian-American females, is like, 'Woah. Why are they even doing that? I didn't know there was a market for this,'" Yang frantically says. "And we're like, screw that. We're creating a market because you didn't even realize that there's so many of us. And what if we just all grouped together in one room, would that blow your mind? Oh my God."
Reorientation
If and when Dis/orient/ed Comedy takes off, the group hopes to use it as a launchpad for other such shows across the United States. Imagine a comedy tour headlined by Yang, Lu and Okatsuka and showcasing local Asian-American community organizations, artists and comedians.
Of course, this all counts on the success of the Los Angeles show July 14. An hour beforehand, guests can mingle at a community happy-hour where Asian-American women's and LGBTQ issues groups will be tabling amidst a mix of beer and wine options. Yang says a portion of proceeds will go to benefit the California Healthy Nail Salon Collaborative "because we believe it is poetic justice because nail salon workers are usually the butt of jokes in stand-up."
Yang explains that in stand-up comedy, one must acknowledge the obvious in order to proceed, be that the comedian's weight, age or race. For the Asian-American community, this means acknowledging women as equally funny to men. And for the American community as whole, this means acknowledging our societal deficiencies about race and working to better celebrate our diversity instead of ostracizing its membership.
"… I believe stand-up comedy is not supposed to be a mouthpiece for bullies," Yang says, "but for a way for people who were bullied to talk back," and Dis/orient/ed Comedy is a way for Asian-American women to find a voice and shout it to the world.
Photos: Dis/orient/ed Comedy press page
Tags: 8Asians, Asian Bowl Cuts, Atsuko Okatsuka, Channel APA, comedy, David Henry Hwang Theater, Jenny Yang, Jocelyn Wang, Joz, Kyle Mizono, Monrok, ORGANIZED. By Jenny, Sarah Negahdari, Steve Nguyen, The Creative Life Podcast, The Happy Hollows, Yola Lu