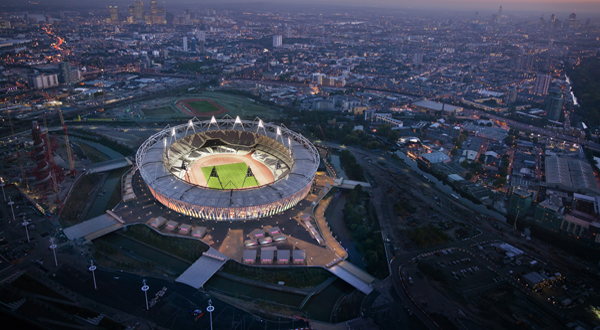 Asian Americans Bring Talents to London
Asian-American athletes go for gold in the London 2012 Olympics
With the 2012 Summer Olympics well underway in London, hundreds of American athletes are giving their all in various events and hoping to bring home gold. Within this large delegation representing the United States, there are 18 Asian-American athletes competing for glory.
Not limited to stereotypical "Asian" sports, these athletes are competing in a variety of events showcasing many different skills and talents. We certainly wish all of our athletes success at the Games, but we take particular pride in these Asian-American competitors, as they play for the United States. Below is a brief showcase of each of these athletes and the skills they bring to London:
Nathan Adrian, Swimming
Born in 1988 near Seattle, Adrian has made quite a name for himself on the world stage. Having won 13 medals in international competitions, including gold in Beijing and Silver (so far) in London, Adrian is no stranger to the pressure of the Olympic Games. With the fastest qualifying time in the 100-meter freestyle heats, Adrian might just be adding to his already impressive resume.
Howard Bach, Badminton
Hailing from South Vietnam, Bach came to United States at the age of 2, accompanying his father to San Francisco. Introduced to badminton at age 11 at his local YMCA, Bach quickly excelled at the sport and was training at the U.S. Olympic Site by 16. Having competed in the 2004 Summer Olympics in Athens, and various other world championships, Bach brings enviable skill and a successful track record with him London.
Kayla Bashore-Smedley, Field Hockey
Moving from South Korea to Pennsylvania, Bashore-Smedley translated her success at field hockey in high school to a scholarship at Indiana University. Having won NCAA championships and earning the title of Big Ten Player of the Year in 2005, Bashore-Smedley was a vital part of the U.S. Olympic team in Beijing. This year, she brings her talents to London and hopes to take home the medal that eluded the team in 2008.
Lindsey Berg, Volleyball
Born and raised in Hawaii, Berg attended the University of Minnesota, where she played volleyball in the Big Ten. While her first Olympics was in Athens, Berg won her first medal during her second Olympic tour in Beijing. Competing with the U.S. National Team, Berg also won a variety of medals on the international circuit. Hoping for gold in London, Berg and the rest of the team will work to surpass their silver performance in 2008.
Clarissa Chun, Wrestling
Also from Hawaii, Chun has competed in wrestling since high school and captured the state wrestling title in 1998. In 2008, Chun became the first athlete from Hawaii to qualify for a spot on the U.S. Olympic wrestling team. Winning titles in competitions from Poland to Mongolia, Chun qualified to compete in London after an outstanding performance at trials in April.
Tony Gunawan, Badminton
Born in Indonesia, Gunawan has already won Olympic gold competing for his home country. Considered to be one the premier doubles players in the world, he now represents the United States, as a both a coach and a competitor. Now living and studying in Orange County, Calif., Gunawan is hoping for a repeat of his stellar performance at the 2000 Summer Olympics in Sydney.
Ariel Hsing, Table Tennis
Raised in the Bay Area by two table tennis playing parents, Hsing seems as though she was born into her current role at the London Olympics. Starting her table tennis career at age 7, Hsing won her first national title at 15 and became the youngest player to do so. Hsing, now 16, will strive for a medal she has been working towards for more than half of her life.
Lee Kiefer, Fencing
Born in Cleveland, Kiefer was raised in Lexington, Ky., by a father who once coached the fencing team of Duke University. Her sister, also a fencer, competes for Harvard University, and her brother recently won the Cadet Cup in Europe. Representing the fencing family dynasty in London, Keifer will look to build on momentum she built at the 2011 World Fencing Championships, where she earned bronze.
Alexander Massialas, Fencing
Coached by a three-time Olympian father, Massialas is no stranger to international competition. He was the youngest player to medal at the Seoul World Cup and was also the youngest player to ever win the Division 1 National Championship. Continuing that trend, Massialas is one of the youngest athletes representing the United States at the Games and the youngest American male making the trip to London.
David McKienzie, Volleyball
Born and raised in Denver, McKienzie also finds himself part of a family immersed in sport. His sister is the coach of the women's volleyball team in Long Beach, Calif., and was an all-American player for Long Beach State. Joining the U.S. men's team in 2001, McKienzie and the rest of the team hope to make a repeat of their 2008 gold medal performance in Beijing.
Paige McPherson, Taekwondo
Having already medaled in the Junior Olympics throughout her career, McPherson looks to bring that success to the main event in London. Born in Texas, McPherson currently attends Miami-Dade College and was the recipient of Outstanding Female Athletes awards at national championships in 2007 and 2009. Ranked 9th and 13th in her various weight classes, McPherson hopes to bring the United States a gold in a sport typically dominated by other countries.
Tamari Miyashiro, Volleyball
Born in Hawaii, Miyashiro was All-American collegiate athlete at the University of Washington. Making her Olympic debut in London, she has been a star member of the U.S. National team during the FIVB World Grand Prix. Helping her team secure gold there, Miyashiro, and the rest of the women's team, look to take that success along with them to London and replace the silver medal of Beijing with a gold for 2012.
Kyla Ross, Gymnastics
Born in Honolulu and currently residing in Aliso Viejo, Calif., Ross competes in team events and on the uneven bars. Though it may be hard to believe, Ross is already a seasoned veteran at 15. Having medaled in team and individual competitions since 2012, she is the youngest member of the U.S. gymnastics squad. With the second best qualifying score, Ross hopes to achieve an Olympic dream on the uneven bars in London.
Sandra Uptagrafft, Shooting
Born in Singapore, Uptagrafft is married to a member of the U.S. men's shooting team, and both will compete at the 2012 Olympic Games. A Petty Officer in the Navy, Uptagrafft has won bronze, silver and gold medals in national shooting competitions in 2010 and 2011. Competing in the 10-meter air pistol, she is making her Olympic debut in London.
Rena Wang, Badminton
Attending UCLA as a Biology major, Wang and her sister Iris usually compete in doubles competitions; however, Iris was unable to qualify for the 2012 Olympic team. As a result, Wang will be the only American woman competing in badminton. Singles will be a departure from her usuall style, but Wang has won many international competitions and showcases talent that will likely bring her success in London as a solo competitor.
Timothy Wang, Table Tennis
From Houston, Wang will also be the sole American competitor in his sport. Wang may feel more pressure than other Olympians, as the lone United States representative; however, he has had a successful track record in national competitions since 2010. Often placing first or second in singles matches, Wang is poised to do well in London and continue his successful career.
Erica Wu, Table Tennis
Another young member of the American team is Erica Wu of Southern California. At 16, Wu will compete in both the singles and the team table tennis competitions in London. She won a bronze medal at the 2011 Pan American Games and various national titles throughout her career. Learning to play at age 7, Wu has focused solely on table tennis competition since she was 9 years old.
Lily Zhang, Table Tennis
Zhang is the third Chinese-American woman who will represent Team USA during table tennis competitions in London. Also only 16 years old, Zhang hails from Palo Alto, Calif. Having played competitively since 2009, Zhang also successfully medaled at the Pan American Games and garnered champion status at a variety of national competitions. Alongside Hsing and Wu, Zhang hopes to bring home medals for the United States in the singles and team table tennis competitions.
The information for this article was compiled from http://www.teamusa.org.
Photos: London 2012 Olympic and Paralympic Games Media Centre (featured image computer generated image by Populous), Team USA Flickr (athlete head shots)
Tags: 2012 Summer Olympics, Alexander Massialas, Ariel Hsing, Clarissa Chun, David McKienzie, Erica Wu, Howard Bach, Kayla Bashore-Smedley, Kyla Ross, Lee Kiefer, Lily Zhang, Lindsey Berg, London, Nathan Adrian, Olympics, Paige McPherson, Rena Wang, Sandra Uptagrafft, Tamari Miyashiro, Team USA, Timothy Wang, Tony Gunawan