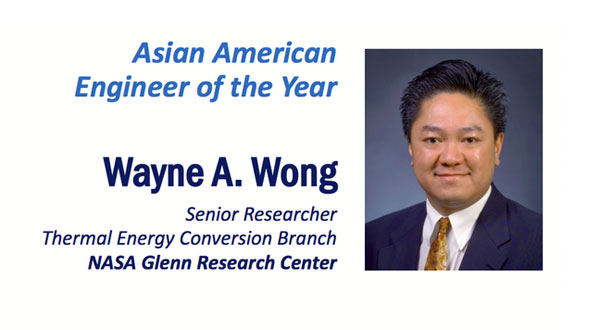 Asian American Engineer of the Year Hails from Cleveland
Senior researcher at NASA Glenn Research Center in Cleveland, Wayne Wong, was honored as one of the Asian American Engineers of the Year during National Engineers Week in Dallas. Wong is instrumental in developing new technology to allow greater propulsion efficiency on future space missions. Recognized for his hard work and diligent research, Wong was also highlighted for his contributions to the Asian-American community in Cleveland. As an all-around exemplar of what it means to be an inspiring Asian American, Wong is certainly a deserving recipient of this award.
During his time at NASA, Wong has worked on the Sterling convertor. This propulsion system will allow future space missions to travel greater distances on a much smaller supply of manmade plutonium fuel. Due to the limited supply of this resource, reducing the amount required for long-distance space travel is an historic accomplishment and one that will allow NASA to reach even farther into space.
While this is certainly enough to earn Wong a place among the best Asian American Engineers in the country, it is far from his only accomplishment. As one the leaders of the Cleveland Asian Festival, Wong helped organize events attracting over 42,000 visitors in 2012. Furthermore, Wong and his wife have helped to raise awareness for Asian-American culture by holding events, such as the "Faces of Chinatown" history exhibit and the Lunar New Year celebration in Cleveland.
For all Wong did to further NASA's research and promote the growth of a vibrant Asian-American community in Cleveland, he certainly seems to deserve the recognition. He and other award recipients — a full list of award winners can be found at http://www.aaeoy.org/2013.html — at this year's National Engineers Week demonstrate what it means to be an active member of the Asian-American community. Striving to further NASA's knowledge and endeavoring to highlight local Asian-American traditions, Wong truly is an Asian American Engineer of the Year.
March 12, 2013: Updated for clarity. Corrected the reference to the Cleveland Asian Festival.
Tags: Asian American Engineer of the Year, NASA, National Engineers Week, Wayne Wong