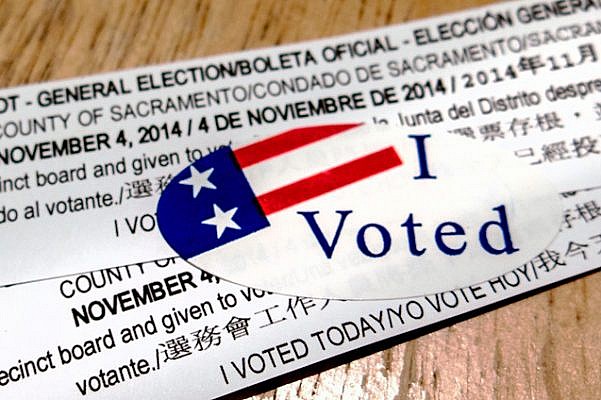 The New Face of the Asian American Voter
"It's a wake up call – most young people aren't aware of what our aunties and uncles face at the polls." – Jerry G. Vattamala
It's hard to miss mainstream media coverage of everything from candidates' wardrobe choices to their stances on issues like immigration reform. But studies suggest that despite this barrage of information, voter turnout is surprisingly low. This is especially true for minority voters – Asian Americans are the fastest growing demographic but have a tremendously low turnout to the polls. According to 18 Million Rising, only 55 percent of eligible Asian Americans are registered to vote, the lowest percentage of any race. And it appears to be more than apathy keeping them away.
"Listen, Asian American voter turnout is embarrassingly low and there are a lot of reasons why," explains Jerry G. Vattamala, director of the Asian American Legal Defense and Education Fund's Democracy Program, via email. "It's not enough to say, 'It's important to vote because it's your civic duty.' The challenge is to drive home the message that whoever is elected has a personal impact for you by highlight[ing] candidates' stances on issues that are close to them."
There are a number of overarching barriers that account for the low turnout rate. According to Tanzila Ahmed, campaign manager at 18 Million Rising, an Asian American civic engagement organization, there are five main barriers for Asian American voters: voting logistics, the engagement process, voting rights, multilingualism, and in-culture inclusion and information.
The Model Minority Myth is at Work (Again)
"We need to empower the community and give Asian Americans the power to voice themselves." – Tanzila Ahmed
The model minority myth, the pervasive belief that Asian Americans are a successfully integrated population that does not need assistance, plays a role in low voter turnout. Both Ahmed and Vattamala suggest language as a major barrier for Asian American voters, especially first-generation voters, who may be perceived as not needing assistance.
Asian Americans speak many different languages and do not always have access to the properly translated information needed to vote. There are over 15 Asian languages spoken in the United States and many nuances within cultures and ethnic groups (Mandarin Chinese is not the same as a Cantonese). In order to combat the language barrier, the Asian American Legal Defense and Education Fund promotes the Language Assistance Provisions (section 203) of the Federal Voting Rights Act. This act mandates that a state or political subdivision provide language assistance to voters if more than 5 percent, or 10,000 persons, of voting-age are members of a single-language minority group and do not "speak or understand English adequately enough to participate in the electoral process," among other provisions.
Still, this minority threshold presents problems to Asian American voters because in many communities, they represent fewer than 5 percent of the population. In fact, only 22 counties in 11 states are required to provide bilingual ballots, interpreters at poll sites, and other translated materials in Asian languages.
Vattamala adds that some ethnic media stations transliterate candidates names, which can make it difficult for voters with limited English proficiency to correctly identify their names when it comes time to vote.
"The Minority Myth suggests that Asian American voters don't want to rock the political boat," says Janelle Wong, professor and director of the Asian American Studies program at the University of Maryland, via telephone. She feels that this myth is partially to blame for mainstream media's tendency to overlook this voting demographic and contributes to candidates' reluctance to devote the resources to targeting Asian American voters.
Asian Americans Are Still Perceived as "Perpetual Foreigners"
"It's a wake up call – most young people aren't aware of what our aunties and uncles face at the polls." – Jerry G. Vattamala
Since most younger Asian Americans do not have language proficiency issues, their experience at the polls may be different to that of their elders. Many elders are perceived as foreigners and asked to show proof of citizenship – a tall order when the majority of people don't walk around with their passports or birth certificates in their pockets.
Vattamala points to one startling example of voter discrimination of Korean Americans at a polling station in Annandale, Va., during the 2012 election. A group of elderly Korean American voters was required to show multiple forms of identification, say their names in English, and separate into relegated voting lines. This surprising display of insensitivity is just one example of the potential challenges older Asian Americans may face.
"What I've seen so many times is when you have a community that's growing and excited to participate in American democracy … you often see a countervailing force that pushes them down or pushes them back," Democracy Program Director with the Asian American Legal Defense and Education Fund, Glenn Magpantay, tells the Huffington Post. "It's heartbreaking. These are Korean grandmothers. They want to vote. They are proud to be Americans."
Wong adds that this stereotype can also dissuade politicians from engaging Asian American voters. Along with persistent structural barriers to voting, these perceptions make it less likely for both media and candidates to acknowledge Asian American voters.
"People used to think that Asian Americans were really only participating in transnational politics [in their home countries] and that they're harder to mobilize," Wong says. "They think that there's less of an incentive to contact them, and it becomes a vicious cycle."
Our Community is Complex
"The Asian American community is so unique – there are certain things that bind us all together, but we don't have a shared language, and [we] have many different cultures." – Jerry G. Vattamala
In addition to different languages, cultures and religions, there are a diversity of ideas and opinions within the community. While it might be easy to assume all Asian Americans care about education and immigration laws, that simply isn't the case. "Asian Americans care about the same issues that everyone else cares about," Ahmed says. "Information needs to be shared in the language and culture that they understand."
Although some studies suggest more Asian Americans vote Democrat, Wong makes an important point that many Asian American voters are registered as Independent, and some don't perceive issues along party lines. "There's more media interest [in Asian Americans] now than in the past," she says, "but every year, there's anticipation and disappointment." Wong suggests candidates target ethnic churches and reach out through local events.
But, on top of these cultural nuances, there are physical barriers to Asian American voter turnout. Voting districts may be redrawn following the census every 10 years, but these imaginary lines imposed on communities may not be reflective of the populations living there. Vattamala explains that many poll workers are not representative of the districts in which they work. This can exacerbate language misunderstandings and lead to incidents similar to what occurred in Annandale, Va.
The Asian American Legal Defense and Education Fund examined the issue of redistricting in New York and asked residents to draw what they believed were their community boundaries. It then superimposed their findings on the official district lines. According to its website, the fund says this practice may "gerrymander" Asian American neighborhoods and dilute the Asian American vote. Vote splitting is a clever way to make people think that their votes don't count and also make it difficult to elect someone who represents the actual community as a whole.
"If you get a district drawn fairly, it spurs the community to come to the polls. It can do wonders for voter turnout," Vattamala says.
Looking Forward
"The number one thing is that people need to register to vote. But that's not enough – you need to turn out and be an informed, educated voter." – Tanzila Ahmed
Both Ahmed and Wong point to voter registration as a barrier to turnout. But this issue isn't unique to Asian Americans. Many people find it difficult to register and follow their state's nuances to declare a party or update their information. "The advent of technology has increased the opportunity for many, especially the [young], to engage in the political process in a way that older generations never had the chance to experience," Senator Carol Liu of the 25th District in Los Angeles explains via email.
Although we still cannot vote online, there are many new tools for civic engagement. Apps like Voter, described as "Tinder for politics" by co-founder Hunter Scarborough, provides condensed information people may be too unmotivated to pursue otherwise. And websites like See Political help make complex topics more digestible through animations and short videos. But people still need the inclination to download the app and do additional research.
While technology continues to evolve, there is no single clear solution to alleviating voter friction. Organizations and media outlets that reach out directly to Asian Americans are necessary and important to engaging this community and getting people to the polls. But it's ultimately up to the community to drive people to political action. "The mentality was follow, not lead," Liu explains. "Our generation of Asian Americans must lead if we are to change the current perspective on civic engagement."
Photo: Robert Couse-Baker under Creative Commons
Tags: 18 Million Rising, Asian American Legal Defense and Education Fund, Janelle Wong, Jerry G. Vattamala, model minority, Senator Carol Liu, Tanzila Ahmed, voting