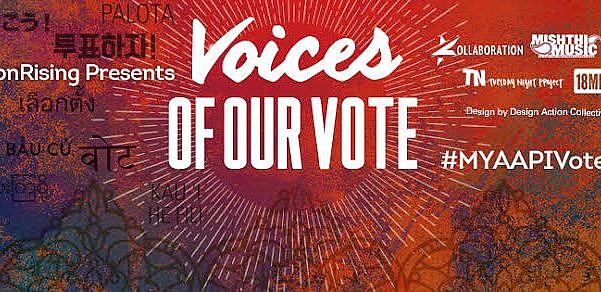 "Voices of Our Vote" Album Makes Music for Change
Voting isn't the sexiest social issue around, but 18MillionRising is changing the way people think about voting with their new album and campaign, Voices of Our Vote. The album drops a few weeks before the first 2016 presidential debate in the hopes of bringing together the Asian American community and encouraging people – especially young people – to vote.
"Music is an amazing force to address this because, when done right, it's a mechanism for messaging that impacts the heart," says Minji Chang, a director and producer for Kollaboration, which partnered with 18MillionRising to create the album, via email. "There's something about well-crafted lyrics paired with irresistible melody or beats that makes us more vulnerable and welcoming to what someone is trying to say."
18MillionRising is an Asian American activist organization focusing on empowering the Asian American community and encouraging individuals to share their stories and voice their opinions. The #MyAAPIVote campaign also includes the launch of several online tools. There is an online electoral platform, a pledge to vote photo project, a story collecting blog, and a ballot language translation app called VoterVOX. Youth ambassadors at YTeam Network, a grassroots organization, will lead the #MyAAPIVote campaign.
Without promoting a specific candidate or platform, 18MillionRising hopes to get people engaged in politics and involved in the community. Voices of Our Vote: My AAPI Vote Album is the first collaboration of its kind and features 32 tracks by Asian American artists. The album includes Asian American musicians like rapper Rocky Rivera, singer-songwriter St. Lenox, electronic beat maker Gingee, hip-hop artist SETI X, YouTube pop sensation Gunnarolla, and ISATV's DANakaDAN.
His song, along with Jun Sung Ahn, called "Alive" opens with a piano melody that transforms into a catchy rap song with thought-provoking lyrics about celebrating life and fighting for convictions. His relatable lyrics praise hard work and the motivation to make change.
Priska's "Don't Go Quietly" is a more introspective tune that calls for people to make their voices heard. Her voice implores us to participate with lyrics like, "The shadows/Can't silence the sound/Stand up dear… You've something to say." Her lyrical ballad contrasts with the more beats-heavy songs but shares the same excitement and energy.
Although genres vary, the message is the same. It's one of hope and empowerment. These civic engagement anthems are the voices of our time, from rap and hip hop to acoustic melodies. Look out for songs directly about voting as well as ones that focus on participation and empowerment.
"I hope the listeners hear themselves in these songs…[and] feel heartened and passionate about being counted in the political scene, about contributing to the political and economic conversation because their results directly impact us and can be altered by us," Chang says.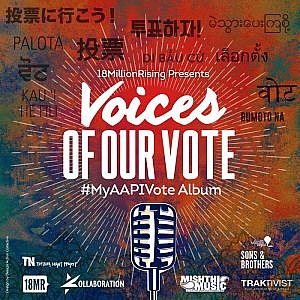 Voices of Our Vote came together with partnerships from Traktivist, a music curation platform, and Kollaboration, an Asian American organization supporting those in the arts and entertainment industries. They host the longest running Asian American open mic space, Tuesday Night Project, and encourage artists to work collaboratively.
"We endeavor to support and nurture the emerging voices of API [Asian and Pacific Islander] artists and creatives because we believe in the power of art to shape our communities and culture," Marvin Yueh of Kollaboration said in a press release. "We hope that by encouraging these artists to use their voices to tell their stories, our communities are also inspired to speak out and bring more of their unique voices into their everyday life, whether that's to their workplace, to their families, or even to the voting booth."
All proceeds earned from the album go toward 18MillionRising's mission of promoting civic engagement in the Asian American community and leveraging the power of technology and social media.
You can download Voices of Our Vote: My AAPI Vote Album beginning tomorrow, Sept. 6, 2016.
Tags: 18MillionRising, Kollaboration, music, My AAPI Vote Album, MyAAPIVote, Voices of Our Vote