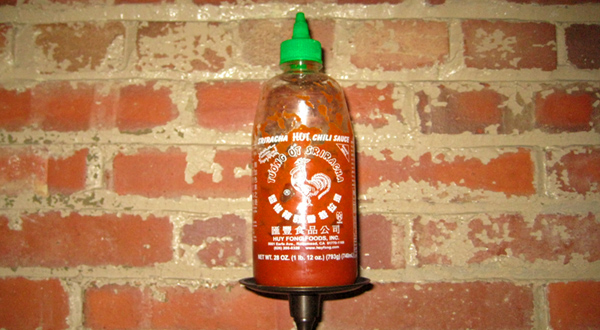 Call Me Rooster Sauce
Sriracha is ubiquitous with fiery goodness – a punishingly addictive additive to any food
A staple of hole-in-the-wall and upper-crust establishments alike, Sriracha-brand sriracha is the king of Asian hot sauce. For those uninitiated, Sriracha is similar to a beer in that one needs to build a tolerance to its taste. Sriracha virgins might get spicy-drunk off of a tiny squirt, whereas a more tempered veteran can apply the sauce liberally, although still be surprised by the kick.
Sriracha itself is a red chili-based hot sauce made with garlic, sugar, salt, vinegar and a preservative and thickening agent. The general term, sriracha, applies to a Thai chili sauce that originated in Si Racha near Bangkok. Sriracha-branded sauce's combination of heat and slight sourness has made it a favorite among culinary aficionados and foodie experimenters. But despite being an American favorite, Sriracha's parent company remains humble.
Huy Fong Foods Inc. started in Los Angeles, when its founder, David Tran, immigrated there in 1980 from Vietnam. Tran sold a pepper saté sauce in Vietnam before coming to the United States, and this same sauce became Huy Fong Foods' first product. Then in 1986, the company moved to a larger facility in Rosemead, Calif., where it remains today.
Donna Lam, operations manager at Huy Fong Foods, says via email that Sriracha relies entirely on word of mouth. "We actually stopped accepting new customers about five years ago," she says, "except for exports. But the business continues to grow on its own."
Made entirely in the United States, Sriracha may be beneficial to your health, not just your palate. One teaspoon contains only five calories and zero fat per serving, making it one of the healthier condiments. Heinz 57 ketchup, in comparison, has 60 calories in its one tablespoon serving size, 20 of which are from fat. Sriracha also contains capsicum from the chilis, which, according to a Research Institute for Production Development study, may help prevent certain types of cancer, while also providing other benefits.
Randy Clemens, Los Angeles food writer and graduate of the California School of Culinary Arts, wrote The Sriracha Cookbook: 50 "Rooster Sauce" Recipes That Pack a Punch, published in 2011. David Chang, of New York City's Momofuku fame, said it is "a perfect example that Sriracha tastes great on everything." The New York Times, in 2009, ran a piece on Sriracha that looked to collect recipes using the sauce from every state. The list, which includes some 20 entries on the Diner's Journal blog, features such things as Seattle's Dahlia Lounge's Sriracha octopus and cucumbers and Columbus' Dirty Frank's "hot dog with kimchee, corn relish and Sriracha coleslaw."
A fan page for Sriracha on Facebook has over 255,000 likes and 16 recipes posted in its "Notes" section for visitors. Other fan service to the Rooster Sauce, Sriracha's unofficial nickname, includes a comic by The Oatmeal, a satirical comic strip website. In it, The Oatmeal calls the fiery experience of eating Sriracha "premature enlightenment."
Whether you're a fan or not, the sauce continues to gain traction. Lam says she hopes the sauce "will be available in more places and be used on everything" and remain a "'rich man's hot sauce that can be bought at a poor man's price,'" which is apparently what founder, Tran, had originally envisioned the sauce to be. As a squirt on pizza, popcorn or chicken wings, Sriracha livens any food with its distinct logo, vibrant chili red and unforgettable burning goodness.
Check out our "10 Ways to Use Sriracha" guide for more ideas on how to use the sauce. And tell us in the comments: When did you first fall in love with the rooster?
Tags: David Chang, Huy Fong Foods, Randy Clemens, Sriracha