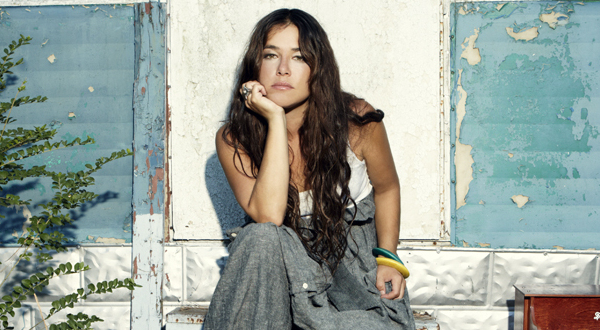 Rachael Yamagata Keeps Breaking Through
Rachael Yamaga talks being a woman in the music industry and being true to herself
Raspy, raw and full of emotion, Rachael Yamagata's voice is a perfect blend of soul and punk, if this combination is musically possible. Yamagata is an Asian-American independent singer/songwriter from Virginia. Her latest work is Chesapeake, a fan-funded album showcasing raw musical talent. It features her rich, retro, bluesy vocals, which are, according to her website, organic to the core. The cover art is a picture taken and edited with the app iCamera, and the album was recorded in various rooms of her producer's house in Maryland.
Yamagata may not be a familiar name, but chances are you've heard her voice in popular television shows such as Grey's Anatomy and How I Met Your Mother or in films, like Sisterhood of the Travelling Pants. Rachael spoke to Dumpling via email about her new music, her biggest musical influences and being Asian American in today's music industry.
Dumpling: How has being Asian American influenced your music?
Yamagata: I think growing up with such a diverse background made me well versed in the specifics of different cultures as well as an investigator into the similarities that unite us as people. We all have the same base of emotions and approach life's challenges and feel deeply in a courageous way. It's what is and isn't expressed on the outside that intrigues me.
My father is Japanese, my mother German/ Italian, my stepfather Jewish from New Jersey, my stepmother the "Southern Belle." Well, she was the only one to study Japanese as well as German and was an avid traveler. My stepfather is a whiz at numbers and has brilliant social behavior instincts. He met my mother, who is now a writer after years in the school administration, while they were counseling runaway kids. My father is a very gifted lawyer and deeply sensitive.
All in all, I grew up in a family that proved the point that one can never judge a book by its cover, and musically that is what I always look at – what are the subtleties of a situation? What is not being said but can be immediately felt? The Japanese have such a sense of honor and pride and grace and much is not said but instinctually understood. The details of things speak volumes and some of that I feel I trace in my songwriting…
Do you think that you have had more difficulty in the music industry being Asian-American?
I've probably felt more distinct challenges as a woman, actually.
Your album was fully funded by your fans. Similar to this, many Asian American young people, such as KevJumba and Sam Tsui, are turning to fan-based networking with sites like YouTube to promote themselves. Do you think that Asian Americans are creating a new type of music?
The fan campaign via Pledge Music was incredibly important to this record coming out. The funding actually came from everywhere, though. The most important part for me was the direct involvement of the fans and the word-of-mouth support they have given me always. I think artists as a whole are seeing the empowering benefits of structuring their own paths and going direct to fans for support in all realms. There is definite creative freedom in doing so, and this will perhaps allow the "new music" to be more true to the artist themselves…
What are your plans for future music? Do you think you will continue with the "lighter" mood that Chesapeake has been noticed for?
I've been working up an EP that is all gut-wrenching darkness actually! I never know what these albums will become until I start writing them, and even then, they change in the studio. It's all up [to] the inspiration, which is difficult to predict. Chesapeake was such an explosion of energy that came after such trying lengths [of] time to just get into a studio. The vibrancy of it isn't necessarily lighter to me so much as a "letting loose" with a nothing-left-to-lose freedom of getting down the songs. As long as the musicians in the room felt alive from the music, then we knew we were on the right track.
Who are some of your biggest musical influences?
It's all across the board, really. I started with a great love of the classic songwriters – Elton John, Joni Mitchell, Carole King, James Taylor, The Beach Boys, et cetera. Nina Simone and Roberta Flack have undeniable emotional delivery in their music. Led Zeppelin, Jeff Buckley – those guitar journeys! Early Rod Stewart, Patti Smith, Chrissie Hynde – they have swagger that I love. Rufus Wainwright – no one does haunting harmonies like he does. Stevie Wonder makes me scratch my head with his brilliant chord progressions. Stevie Nicks breaks my heart. I'm basically all over the place.
What are your hopes for Asian Americans in the future of pop culture?
To keep breaking through! It's important for music and anything creative to always have multiple sources of inspiration, expression and attention brought to it. It is enriching to have such a widespread realm of influences getting out there and heard. Like travel, it opens a new world of possibilities to our hearts.
Photo: Laura Crosta for Rachael Yamagata
Tags: Chesapeake, Interview, music, Rachael Yamagata, Singer