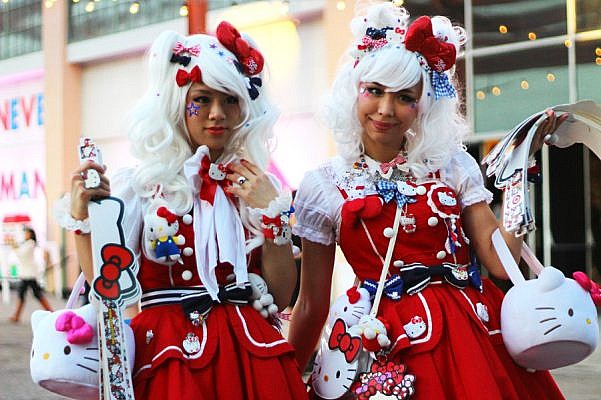 Hello Kitty Celebrates 40 Years of Cute
She's a cultural phenom with a wicked sense of style who this year turns 40.
Hello Kitty — the global icon of all things cute — turns 40 this year. Hello Kitty continues to leave her mark on Japanese pop culture since Sanrio created her in 1974. Her 40th anniversary, and first-ever fan convention, is more than just a celebration of cat iconography, it is an exploration of the kawaii, or cute, culture pioneered by Hello Kitty.
Instead of hosting the monumental event in Japan, Hello Kitty celebrated her 40th anniversary in Los Angeles, at the Museum of Contemporary Art's Geffen Center. Select Los Angeles eateries joined the festivities by creating limited edition Hello Kitty menu items and offering collectible Hello Kitty Hungry Hunt pins with purchase.
Hello Kitty Con and the partnership with the Japanese American National Museum offers an historical perspective of Sanrio's iconic little girl mascot (Sanrio recently revealed Hello Kitty is, in fact, a little girl and not an anthropomorphic cat). The Convention's Vintage Village includes the original vinyl coin purse — flown directly from Sanrio's vaults in Japan — marking Hello Kitty's debut.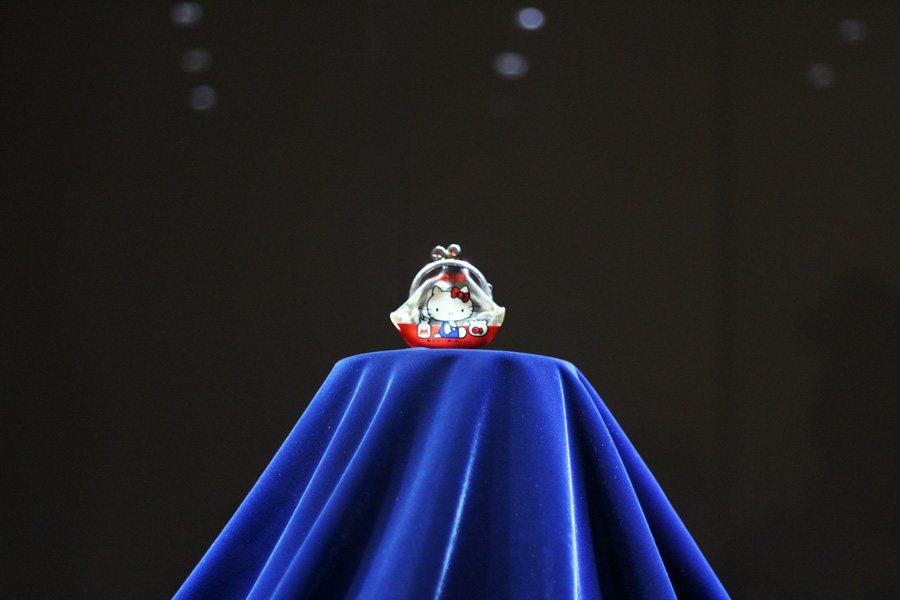 The Japanese American National Museum's retrospective, Hello! Exploring the Supercute World of Hello Kitty, is on view from October 11, 2014, through April 26, 2015. This retrospective is an expanded version of the Vintage Village exhibition at the Convention and offers a more critical view of Hello Kitty and her many incarnations in art.
Dr. Christine Yano, author of Pink Globalization: Hello Kitty's Trek Across the Pacific, and Jamie Rivadeneira, founder and owner of pop culture-inspired boutique JapanLA., co-curate the retrospective. Yano focuses on the historical items and takes a cultural anthropologist perspective. Her book examines Hello Kitty's impact on cute culture and shows how her image spread throughout the world. Hello kitty serves as a cultural ambassador, not so much for Japan, as for the increasingly powerful kawaii culture and buying power of young consumers.
Yet, Hello Kitty is not restricted to children and adolescents; she evokes nostalgia in adults and serves as a reminder of childhood. In addition, some people purchase Hello Kitty with a more ironic sentiment. The cat is sometimes associated with gay males, Goths and the pop-punk aesthetic. These forms of appropriation are a testament to her adaptability and enduring cultural relevance.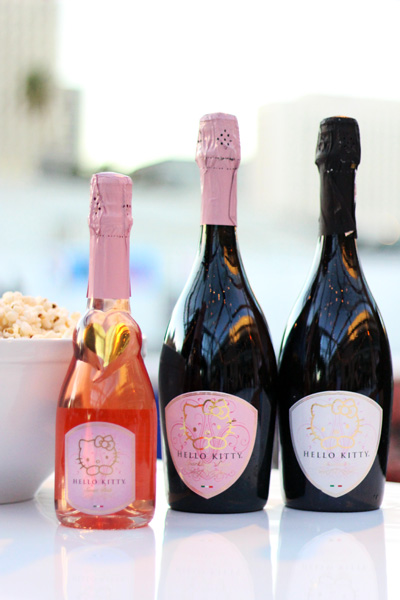 Sanrio acts as Hello Kitty's manager — choosing which companies to license her image to and which products she can promote. Her promotions extend into the adult market; expanding her consumer base and legitimizing more mature kitty fans. For example, WineLab produces Hello Kitty Sparkling Rosé, Sparkling Spumante and Sweet Pink Sparkling Wine. You can also find her on racy lingerie and Marlboro cigarettes. These depictions may beg the question of how much Hello Kitty continues to promote cuteness and good spirits and how much she's a corporate shill in a sponsorship empire worth millions.
Although these more mature depictions of Hello Kitty seem to go against her innocent charm, Hello Kitty's unflagging popularity suggests that consumers want their favorite cat to be everywhere. From a convention-exclusive pair of Beats by Dr. Dre headphones to a luxurious make-up set by Sephora, it is possible to satisfy any kitty-craving. Hello Kitty continually adopts new partnerships, while remaining relatively ageless.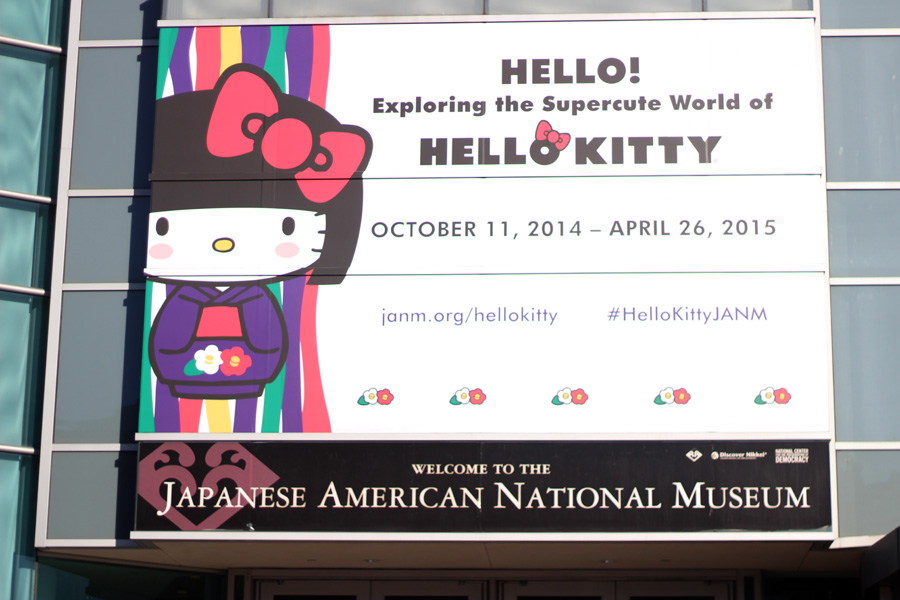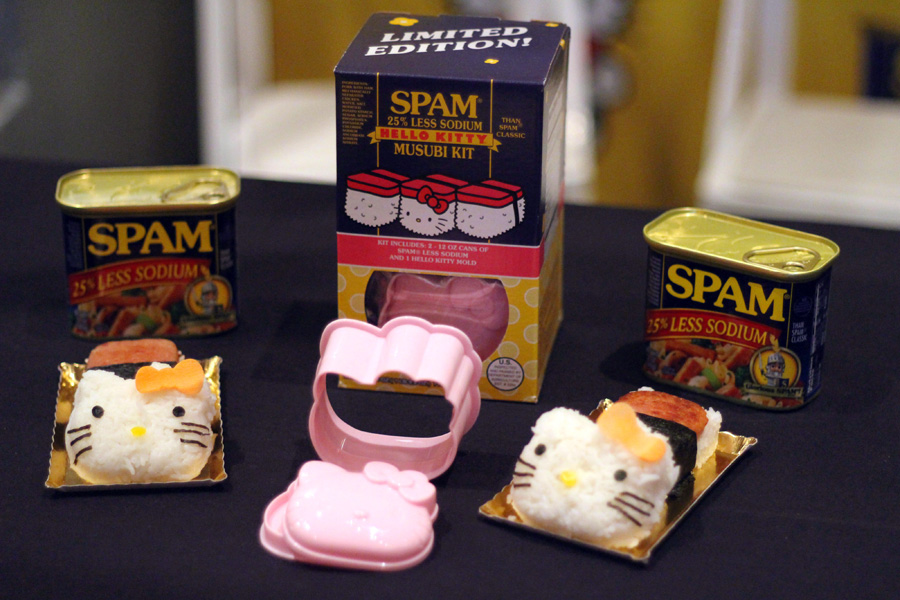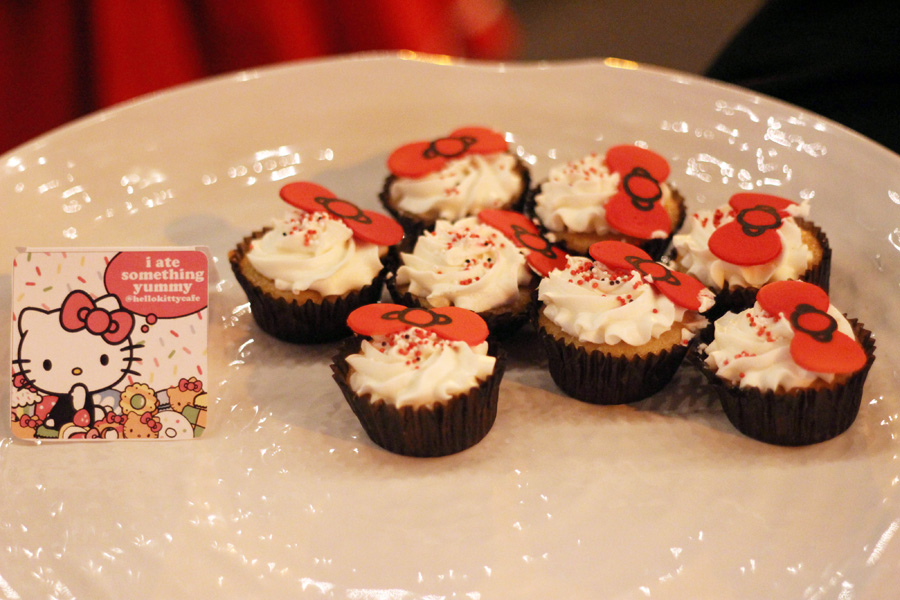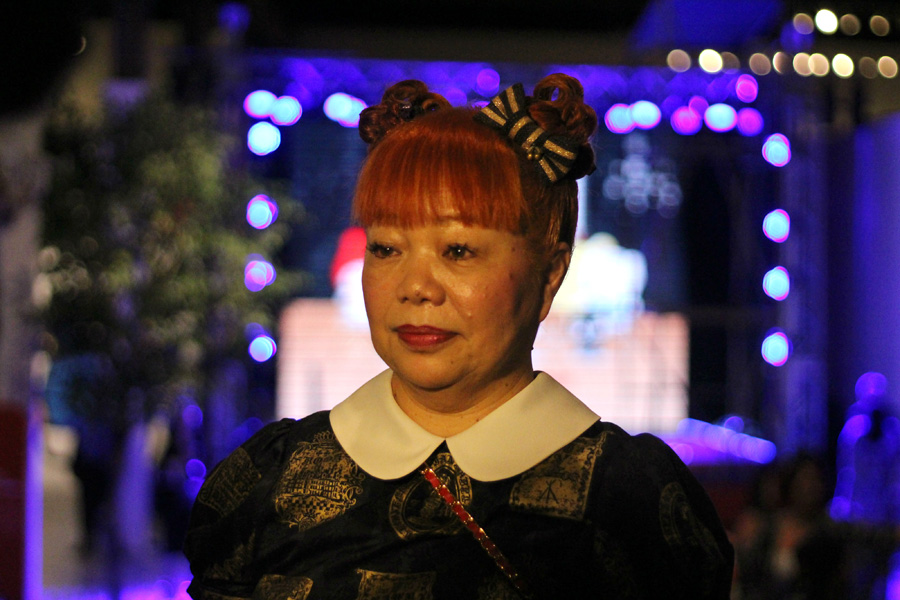 Hello Kitty has kept her iconic look since designer Yuko Shimizu first sketched her 40 years ago. Small changes can be seen in the annually produced Hello Kitty stationary sets sold at the Convention's Friendship Station Pop-Up Shop. Hello Kitty's designer since 1980, Yuko Yamaguchi is also responsible for creating companion characters. Although lesser known, Yamaguchi also made Hello Kitty's boyfriend, Dear Daniel, and Charmmy Kitty.
While it would be naïve to deny Hello Kitty's connection to Japan, Kitty's personal history is designed to appeal to an international audience. Hello Kitty lives in England with her parents and twin sister, Mimmy. According to her biography on Sanrio's website, "she loves to bake cookies and play the piano, and dreams of one day becoming a pianist or maybe even a poet. She has a gift for music and English, and a soft spot for Mama's apple pie." These universal attributes — a dedication to leisure activities and love of family — make Hello Kitty a transnational figure. When asked why Hello Kitty lacks a mouth, Sanrio responds, "Hello Kitty speaks from her heart. She's Sanrio's ambassador to the world and isn't bound to any particular language".
Hello Kitty's global presence and flexibility are most apparent when she appears in costume, such as on the Japanese American National Museum sign, or in Simone Legno's Tokidoki collection. Tokidoki means "sometimes" in Japanese, and these depictions of Hello Kitty often show her dressed up as other creatures — a dinosaur, a lobster, a ghost. Hello Kitty can be anything to anyone.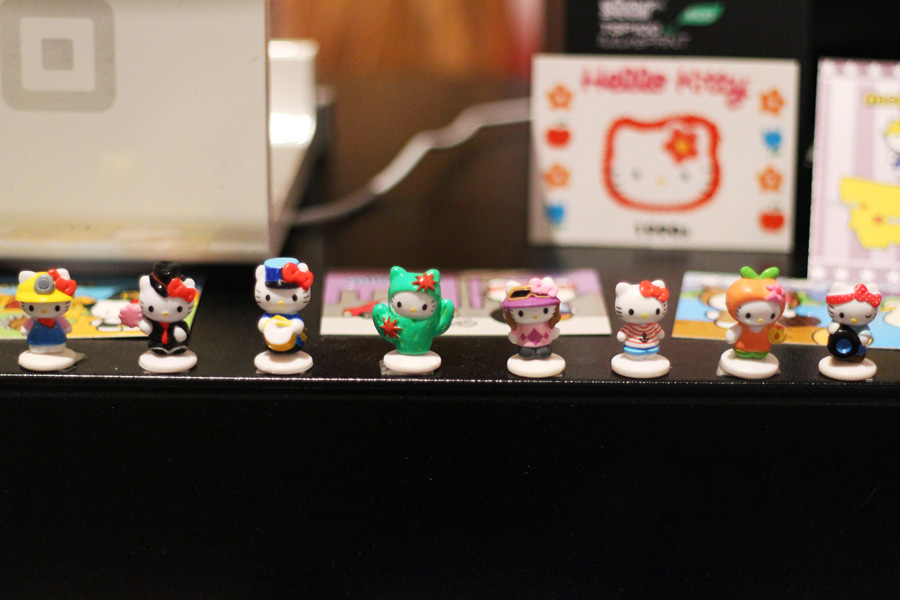 Her role as a goodwill ambassador knows no bounds or, as Hello Kitty says, "You can never have too many friends." Sanrio launched Hello Kitty's Global Hug campaign to promote the cat's friendly nature and her status as a pop culture icon. As Sanrio explained in a press statement, "This unique initiative is geared toward honoring and celebrating the ever-loyal and beloved Hello Kitty fans, while promoting the company philosophy of friendship, happiness and community." The Global Hug Report tallies the hugs Hello Kitty gives during her global tour and guest appearances, updates can be viewed on Hello Kitty's social media channels through the hashtag #HelloKittyHugs.
As Sanrio's Chief Operating Officer and President, Janet Hsu, explained in a press statement, "Hello Kitty has always been about providing happiness, friendship and fun to the world."
Despite her somewhat contradictory depictions, Hello Kitty's status is legendary and her influence unbounded. Love her or hate her, Hello Kitty is 40 and shows no signs of aging or fading from the limelight. So, here's to you, Hello Kitty. May you continue to spread cuteness and happiness for decades to come.
Tags: Hello Kitty, Janet Hsu, Sanrio