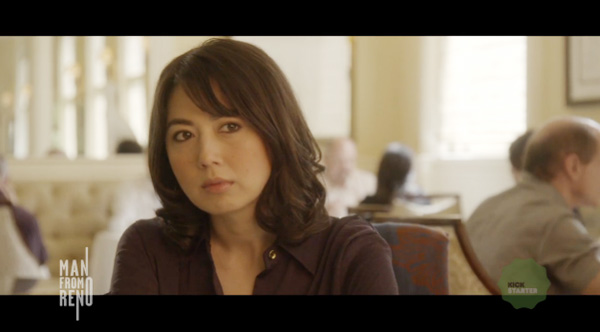 Man From Reno Reaches Kickstarter Goals
Dave Boyle's latest film, Man From Reno, successfully reached its Kickstarter goal of $50,000. With two days to go, the campaign is sitting at $2,000 over its target goal. The funds will be used to help with post production work, including music and visual FX, marketing, and to fulfill Kickstarter rewards.
We've been a fan of Boyle's since seeing Surrogate Valentine at the Cleveland International Film Festival a few years ago. His latest film follows a Japanese mystery author on a trip to San Francisco for a needed respite. Along the way, she meets a man in a bookstore, spends the night with him, and discovers he's vanished the next day. The mystery writer finds herself in real-life mystery, as the cast works to discover what happened to this enigmatic man from Reno.
The campaign is running for two more days, so you still have time to collect some of the great rewards and help this film gain the widest distribution. It stars Ayako Fujitani, Kazumi Kitamura and Pepe Serna.
Tags: Ayako Fujitani, Dave Boyle, Kazumi Kitamura, Man From Reno, Pepe Serna