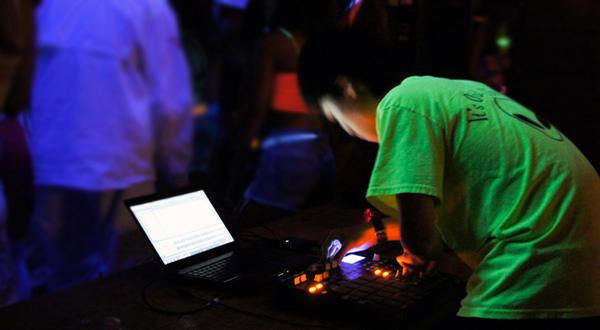 Beat Culture Crosses Borderlines
With a sound described as "Post-Dub" and "Pre-Racism-Dopewave" on his Facebook page, Sunik Kim of Beat Culture laces his sets with an experimental aura, tongue-in-cheek adjectives or not. The 17-year-old Hong Kong native with a fluent mastery of American English began producing music in February 2011. And with less than a month left of his senior year of high school, Kim is looking to the future.
From kindergarten through third grade, Kim studied at an international school in Tokyo, before heading back to Hong Kong to complete third through eighth grade. He now attends St. Paul's School in Concord, N.H., an Episcopalian college-preparatory boarding school, where he's been for the past four years as a coxswain and musician. He says he downloaded a free trial of Sound Forge Audio Studio, "just messing around with it after school and stuff. And I kind of adlibbed and started making some really terrible sets." A few months later, he traded up his audio software to Ableton Live and "from that point, everything fell together."
Without a proper name yet, Kim sat down with a friend and started clicking on random name generators, sites that produce a combination of random words to aid bands or expectant parents alike. "We found a bunch of crazy adjectives and stuff," he says via telephone. "But I just eventually decided on it, and I don't really know how. It came after a long brainstorming session, I'll just say."
With more than 4,000 fans on Beat Culture's Facebook page and exposure across the Internet, Kim's popularity continues to grow, despite his recent start. "I started the page last April, I believe," he says of his Facebook fan page. "…once I released my first chill wave album, Goldenbacked Weaver, in July, that's when it started to pick up there. I know those people on the Internet have their ways."
SoundCloud, a site for musicians to share their music via online streaming, helped Beat Culture reach a wider audience and get picked up by sites such as Hype Machine and aggregator We Are Hunted. Feel Good Lost, a "creative production house working out of Cork, Ireland," heard one of Kim's songs by way of another artist and friend Slow Magic. "Basically, this guy, Brendan, of Feel Good Lost, saw [my song] on Slow Magic's page and really liked it. So he reached out to me asking if he could make an official video for it, and, of course, I was excited about that, cause I've seen his stuff before and think it's really awesome."
The collaboration ended with a music video for Kim's "Before You Go," a dreamlike collection of nature sounds, mellow beats and repeated vocals. The video is like looking out the window of a car after it's rained and seeing different colors and visions due to lens flare. It's a bit like intoxication. "We still talk a lot," Kim says of Feel Good Lost's Brendan Canty. "I sent him some unreleased stuff. We have plans to do another video at some point in the future, for sure."
Kim's most recent album, Tokyo Dreamer, is a throwback to his time in Japan. "It kind of does talk about where I grew up, which is Tokyo," he says. "That's where my childhood memories, I guess, are – from Tokyo." He uses a Windows laptop that's "pretty beat up at this point" to produce his sounds, which include an upcoming collaboration with Slow Magic. "It's pretty much done," he says, "so more news on that soon."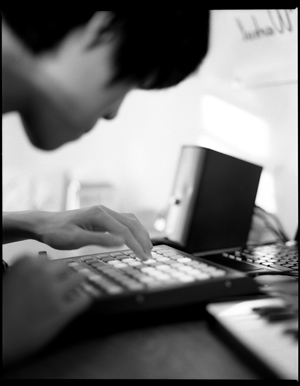 After his three-month summer vacation, Kim heads to Yale University. "I'm not interested in actually studying it," he says of music. "Obviously, once I get to college, I'm going to be involved in a lot of music-related stuff, but not necessarily studying it." He turned down the opportunity to tour throughout Europe with Giraffage, a dream pop and electronic musician headed by Charlie Yin. Kim says he didn't want to miss his first semester of freshman year, where he'll study something "that's not math or science." But he suspects he'll get the chance to visit the continent soon enough. "I feel like a lot of my friends are from there," he says.
The day after our interview, Kim announced his first live show (he's played at his school before, but doesn't seem to count that) at Brooklyn Bowl in Brooklyn, N.Y., May 24. The event features DIIV, High Highs, Killer Mike and DJ Awesome Tapes From Africa and is presented as part of Hype Machine's "Fast Forward" League Night. The first 150 to RSVP receive a gift bag.
"I'm going to wait to do any EPs or albums for a while," Kim says. "I kind of want to sit back and let my sound develop further because I've noticed that every song I release, my sound kind of changes and develops." Wherever Kim goes with his music, his rabid fan base of danceable experimental pop lovers is sure to follow. "I used to call it a hobby," he says of music creation, "but lately it's been less of a hobby and more a full-time thing." And we'll be happy to accommodate.
Look for Beat Culture in Brooklyn, N.Y., May 24, and check out his albums Goldenbacked Weaver and Tokyo Dreamer on Bandcamp.
Photos: J. Clow (featured image), W. Carpenter
Tags: Beat Culture, Brooklyn Bowl, Charlie Yin, Giraffage, Goldenbacked Weaver, music, Slow Magic, St. Paul's School, Sunik Kim, Tokyo Dreamer, Yale University