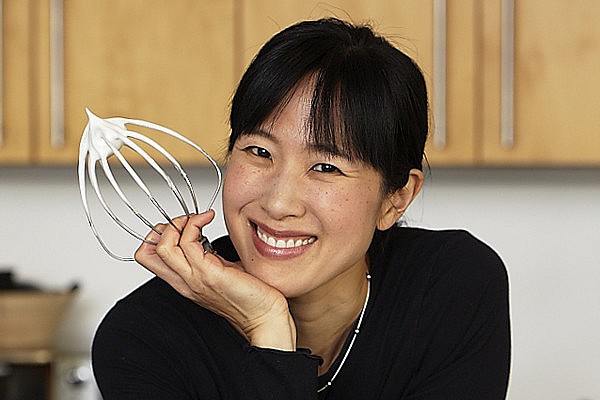 Anything but Basic Desserts
Bakery owner discovers the world of sweets and the power of edible nostalgia
Warning: Looking at her website or browsing through her Twitter photos will make you hungry.
Flour is more than just a basic ingredient, it is the basis for baking all things delectable. When Joanne Chang opened Flour, a Boston bakery and cafe, she focused on delicious homemade sweets that evoked — or created — wonderful taste memories. She graduated from Harvard University with a degree in applied mathematics and economics and was a cookie baker on the side. Chang became a management consultant but continued baking through a home business she called Joanne's Kitchen. She decided to take a year off and spend it in a professional kitchen and hasn't left yet.
Chang and her delectable desserts have been featured by The Martha Stewart Show, The Today Show and Fine Cooking. Flour was also the winner in a sticky bun smack down on the Food Network's Throwdown with Bobby Flay. The lines regularly extending out the door of the three locations are proof Chang has perfected her recipes and are reason to book a trip to Boston ASAP. For those unable to stand in line Saturday morning for cream-filled donuts, her cookbook on shelves now, "Flour: Spectacular Recipes from Boston's Flour Bakery + Cafe," and her second due out next spring should suffice.
We caught up with Chang via email to ask her about growing up in a traditional Taiwanese household, discovering her sweet tooth and concocting those homey desserts.
DUMPLING: Congratulations on your James Beard Foundation nomination for outstanding pastry chef! You baked and sold cookies in college. As a college student, I understand the need for cash. Did you ever think that your side business would eventually become your full-time job?
Joanne Chang: Never. I had no idea.
You said you grew up in a strict Taiwanese household. Can you tell me how that upbringing affected your ideas of food?
We never had dessert. I didn't realize that some people eat dessert at the end of every dinner! In my house sometimes we had fruit, but that was about it.
Who in your family influenced you about food the most?
My parents. My mom loves food, and we spent a lot of time grocery shopping and planning meals and cooking together. My dad, too, loves to eat and really enjoys dinnertime, and I have so many great childhood memories centered around a happy dinner table.
You didn't have dessert until you had dinner at a friend's house. Do you remember what your first dessert was, and could you describe what it tasted like?
I don't remember the exact dessert. It was something very typical, like chocolate cake or apple pie or something like that. I just remember it being AWESOME [sic]!
Were those desserts something you kept a secret from your family, or what did they have to say about sweet treats?
It wasn't a secret, it just wasn't something that we ourselves had at home.
You decided to take a year off from management consulting to study cooking. Were you nervous about that decision? Was your family nervous for you?
My family was concerned, and I was a bit nervous, but I knew that if it didn't work out I could come back to consulting or do something more traditional.
What did you learn about cooking or yourself in that year that made you decide to continue cooking instead of returning to management consulting?
I loved stepping into the kitchen and feeling the energy of getting the restaurant ready for service. We were all on, all the time. It was completely addictive.
What did your family say when you decided you wanted to continue pursuing cooking and then to open up your own bakery and cafe?
They have always been supportive. They wanted to make sure I knew what I was stepping into, but as they saw that I was growing and learning and, most of all, happy, they were completely behind me. I know I'm lucky.
Congratulations on your sticky bun victory on Throwdown with Bobby Flay. On a side note, I guess that means I have to plan a trip to Boston to try them for myself. What was the competition like?
It was exactly as they show you on TV. I had no idea he was coming and no idea it was a Throwdown. It was a complete surprise. I was very, very relieved that we won, given that it would be appearing on national TV.
I should add, that's only one in a long list of media outlets singing their praises for your desserts. Were you surprised when people started finding out about Flour?
I was very happy that what I wanted to do was what people seemed to want. You never really know if what you think is good is going to be what others like, so it's been very rewarding.
In addition to Flour's three locations, you and your husband, Christopher, also own Myers+Chang, a restaurant serving Chinese, Taiwanese, Thai and Vietnamese cuisine. What was your motivation for starting that restaurant? Was it important to you that it feature Asian cuisine?
I wanted to feature Asian food the way I saw it — fresh, craveable, not static or strictly traditional. I didn't want people to have to go to Chinatown in order to eat great Asian food. Christopher as well wanted to open something fun and casual that featured his favorite kind of food: Chinese!
Was food what brought you and your husband together?
I was Christopher's pastry chef at Rialto many years ago, so yes.
I read Christopher was waiting for you to make a lasagna, pot roast or leg of lamb for dinner, but you kept making stir fries. Have you learned what I'll call "traditional American meals," or has your husband started preparing them?
Ha! We still only eat Chinese. He doesn't cook, and I still can't make a pot roast.
Your philosophy is "Make life sweeter…enjoy dessert first." Do you take your own advice to heart and eat dessert first?
You bet!
Is your home filled with desserts?
We don't have a lot at home, in general, since we are at the restaurant most of the time. But there are stashes of chocolate and other goodies throughout the house.
Have you converted your family into dessert lovers over the years?
My parents do seem to enjoy eat[ing] at Flour multiple times when they come visit.
Your Flour cookbook has had multiple printings, and a new cookbook is coming out soon. Do you have a date, and can you tell me a little more about what recipes we can expect?
"Flour, too" is the second book, and it comes out next spring. It will include recipes from Flour all day long: breakfast, lunch, dinner. There are soups, sandwiches, dinner specials, basically everything that was not included in the first book.
Can you tell me what else you've got planned in the next few months?
The second Flour book is definitely my focus for this year.
Dumpling is a magazine for second-generation Asian Americans. Is there something you would like to say to the audience, perhaps something you wish someone told you when you were younger?
Do what makes you happy and remember that if you don't do it, someone else will. So it may as well be you.
Photo: Joanne Chang in one of her many kitchens by Keller + Keller
Tags: Bobby Flay, Boston, Flour, Flour: Spectacular Recipes from Boston's Flour Bakery + Cafe, food, Joanne Chang, Keller + Keller, Throwdown with Bobby Flay