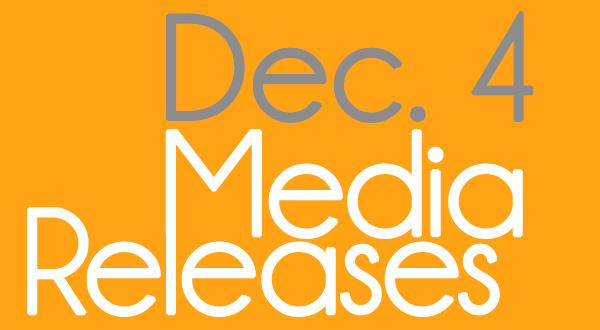 Media Releases, Dec. 4, 2012
It's been a long time. Too long, maybe, but we're back and ready to bring you the latest new release CDs and DVDs featuring Asian-Americans. This week sees the release of The Dark Knight Rises and a re-release of Disney-Pixar's Up, this time in 3-D.
CDs

Mellon Collie & the Infinite Sadness, Smashing Pumpkins
A re-released and remastered collector's edition to the 1995 original release, Mellon Collie & the Infinite Sadness features some 30 songs in original Smashing Pumpkins nuance. With James Iha on the guitar, this album isn't one to pass over again, and is sure to be a hit with new fans. The collector's set is a little over $120 on Amazon, but the MP3s can be had for around $15.
Much Love, Jason Chu
Jason Chu may not look like a rapper, but he can lay down as mad a beat as anyone. We wrote about his release party a few weeks ago, and his album is finally available for purchase via Bandcamp. Purchase a copy today for as little as $6, or pony up a few more bills for an autographed version. Totes worth it, ya'll.
DVDs
Everyone's favorite Japanese-American boy, Russell, returns in this five-disc Blu-ray/DVD/digital download/Blu-ray 3-D/extras disc combo pack, just in time for the holidays. A story about adventure, love, loss and finding one's place in the world, Up is critically lauded for casting an Asian-American for the voice of Russell where studios normally cast white actors for such roles.

The Dark Knight Rises, Warner Bros.
Batman hasn't been seen in years, as Gotham City tries to live without the vigilante crime fighter. That is, until the likes of Catwoman and Bane disrupt the simple pleasures of city life. The finale to Christopher Nolan's Batman trilogy, The Dark Knight Rises promises big spectacle and a satisfying conclusion to Christian Bale's Batman.
The Dark Knight Trilogy, Warner Bros.
This comes as a Blu-ray DVD combo pack and also as a collector's trilogy edition.
Tags: Batman, Catwoman, Christian Bale, Christopher Nolan, Disney-Pixar, James Iha, Jason Chu, Mellon Collie & the Infinite Sadness, Russell, Smashing Pumpkins, The Dark Knight Rises, The Dark Knight Trilogy, Up