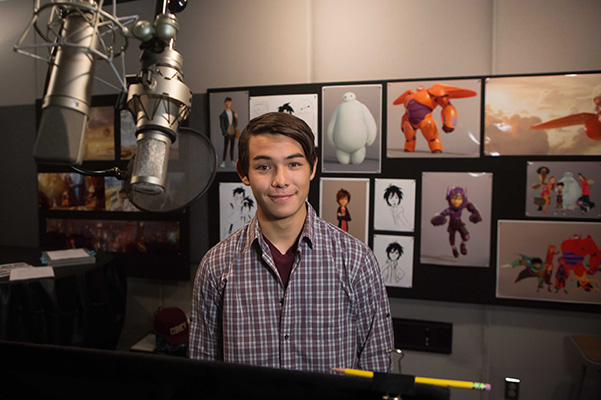 Ryan Potter and Disney Lead the Diversity Pack with Big Hero 6
The Asian-American actor is making progressive waves with his role as a half-Japanese, half-Caucasian protagonist in one of Disney's biggest projects to date.
Ryan Potter will tell you he's not a good actor. It's not that he doesn't like his craft. He loves it. It's just that he's kind of new at this. Learning something with every project he picks up, Potter says his most recent endeavor, Disney's Big Hero 6, has pushed him hardest. Despite a dearth of big-league experience, he'll say this with a sense of calm and confidence. He's 19 years old, but you get the sense the neophyte takes his work as seriously as a veteran committed to the biz. For someone playing a half-Asian protagonist in a lead role — a rare scenario in Hollywood, even today — that's a good mentality to have.
In Hero, Potter voices Hiro Hamada, a cartoon constructed in his likeness: a half-Japanese, half-Caucasian teen. As in many famous Disney movies, Potter's protagonist deals with extreme personal loss before triumphing over adversity, finding what the actor describes as happiness and pure joy by film's end. When the movie hits the big screen November 7, high-tech whiz kid Hiro will do so with the aid of the already-lovable Baymax, a clumsy, plus-size, inflatable robot, as well as a clique of other gadget-oriented heroes.
The topline role represents a big step for Potter's career, which, as bustling Comic Con panels have shown, has shifted to a bigger stage. Fans first clung to him because of his starring role on Nickelodeon's Supah Ninjas — he's also participated in a couple smaller projects (Save the Date, Senior Project). But, perhaps more important, he says Hero signifies a leap in the right direction for onscreen diversity. "I'm excited for Asian-American kids just like me, growing up in the United States or wherever, [who] are going to be able to see Big Hero 6 and be like, 'Hey, Hiro looks like me!'," Potter says. "That's no longer a rarity. Mixed-raced people are becoming the norm."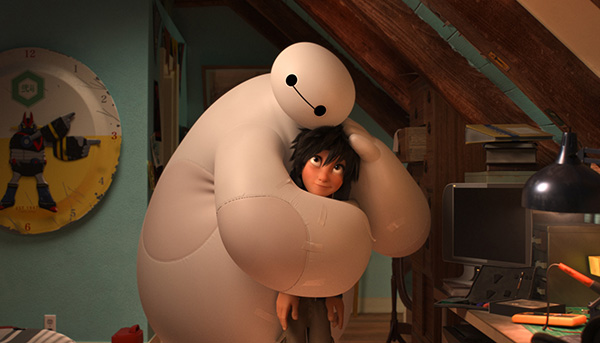 Mixed-race people, yes. But Hero unspools as one of Tinseltown's few recent mainstream films with an Asian-American in the lead role. "It's changed in Hollywood, but only so much. You can't get Asians cast in leads yet," Heroes co-star Masi Oka told The Hollywood Reporter last year. "Maybe as a second lead, but the lead is still going to be Caucasian or African-American. But Hollywood is fickle; it follows trends. If a show or a film did well with an Asian lead, then it would take off." Potter thinks we might be glimpsing the beginning of that trend.
"There's not a lot of us," adds Potter, sitting at the Time Warner Center's Bouchon Bakery during a recent visit to New York City's Comic Con. "We're definitely coming to a time — especially with the new TV series Selfie, where you have an Asian-American romantic lead — that's incredibly important." If series like Selfie (starring John Cho) and ABC's upcoming sitcom Fresh Off the Boat (centering on an Asian-American family) can ring in change for small screens, Potter posits Hero as leading the pack for movies.
It's hard to disagree with him. Sure, Mulan, Jackie Chan, and Bruce Lee changed the stateside game, but how many movies as of late have featured Asian actors in unconventional top billings? When Up came out in 2009, moviegoers and film writers erupted with confused excitement. Was Russell, the young, last-nameless Boy Scout who helps an aging widower on an adventure, Asian? SlashFilm noted that Pixar's publicity materials did not market the character as Asian-American. The film's creators, however, reportedly created the character with animator Pete Sohn in mind. Some scribes pegged Russell as Disney's first Asian co-lead, as well as a marker for progress in an industry notorious for indulging in superficiality, stereotypes, and typecast roles. The movie was a success, according to Box Office Mojo, racking up more than $700 million worldwide (the lion's share of that sum coming from international audiences) at the box office. Potter believes Hero, with its diverse cast, emotional heart, and Marvel-like action, limns similar allure.
Potter's proud to help Hollywood break its white comic-book superhero mold. He's also a little unfazed — he's certain we're just witnessing the beginning, and he wants to focus on honing his craft without getting lost in race discourse. As the state of the industry's diversity evolves, so do his proclivities: He's developing a penchant for working behind cameras. "I'm incredibly visual," he says. "I have to have control, and I want to be able to bring to life what's in my head." At the moment, a backward baseball cap covers his head, his dark brown hair spilling out around the sides; save for a red V-neck shirt, he sports all black streetwear. When he says he's visual, he does so gesticulating, as if shaping clay, trying to conjure something right there on the spot.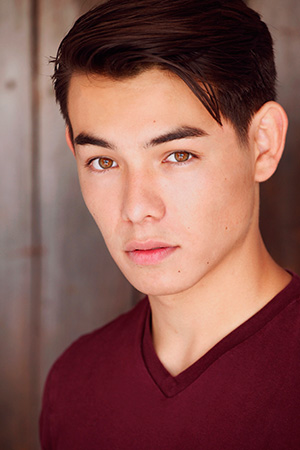 Helming a TV series or feature film would be fine, but Potter wants to direct music videos. This might come as a surprise to the fans who know him as the ass-kicking lead from Supah Ninjas or as the actor who spends much of his free time practicing white tiger kung fu (don't worry, he'll be back in action with 2015's Underdog Kids, a martial arts family drama). He was never musically inclined — except for a brief stint with the drums — but that doesn't mean listening to music and discovering new artists aren't two of his biggest obsessions.
Done with high school, Potter hopes his next stop is a top-tier film school. His dream situation would involve CalArts, located in Valencia, Calif., near his family's home. Like a vulture, he scrounges for, and devours, as many music videos as he can, to pick up on camera work and direction. Although he wants to end up behind the camera, he concedes he still has lots to learn regarding the nuances of the production process. For now, he wants to continue his on-camera work to help with that learning along the way. Thanks to Hero, that shouldn't be a problem. "It's my voice," he says of the role. "I didn't have to do anything to it." It's fair to say, then, that Potter's playing himself in more ways than one as Hiro, the 14-year-old rising star, coming of age in a culturally blended metropolis, trying to find his place in the world.
Potter resembles a lot of kids his age. He has options, and his dream job could change by the week. But that part of him that's filled with confidence flares, and it's the part that makes him abnormal when compared to his peers. "I feel like there are a lot of people who are gonna read this," he says, "and go, 'Oh, no. He needs to do the four more years of core education.'" Some of his closest family members belong to that group of people. His dreams of film school are, in a way, a compromise: It's four more years of school and a degree to appease them, but it'll be four more years of what he wants to study.
Maybe Potter thinks he's not a good actor, but maybe after seeing Hero you'll be inclined to disagree with him. When he's pondering what he'll do with his career, Potter will cast his glance around the room, as if he's trying to find the answer to a question under a table or somewhere on a wall. When he finds it, he'll fix his hat and look you dead in the eyes. He'll say he knows his Japanese roots, and they'll influence whatever he does. You can bet he'll never forget growing up on director Hayao Miyazaki's films or working with actor George Takei. Sometimes the way somebody says something, you get a vibration. Whether it'll be in front of a camera or behind one, Potter talks like a kid hungry to work, ready to keep pushing Hollywood's new trend.
Photos: Courtesy of Disney and Piccolo PR, respectively.
Tags: Baymax, Big Hero 6, Disney, Heroes, Hiro Hamada, Ryan Potter, Supah Ninjas