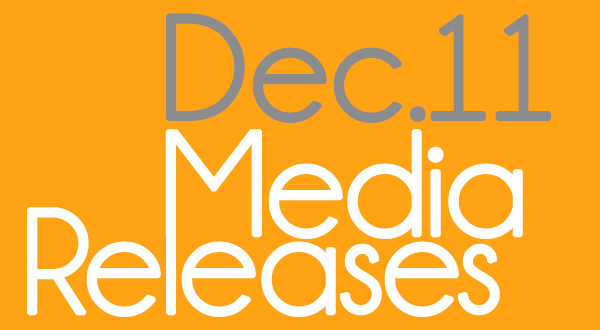 Media Releases, Dec. 11, 2012
Each week, we bring you the latest new release CDs and DVDs featuring Asian Americans. This week we bring you the latest electro-dance offerings from none other than master turntablist Steve Aoki. Also appearing this week, is the cast of Glee's latest Christmas album and a new release from Bruno Mars! This is the best Hanukkah gift ever!
CDs

It's the End of the World as We Know It, Steve Aoki
Aoki's latest EP, It's the End of the World as We Know It contains three heart-pounding tracks that are sure to bring your holiday parties to life and give you new incentive to push that treadmill even further. Known for his crazy parties and mad mixes, Aoki's latest offering is a dance fiends best friend.

Glee: The Music, The Christmas Album, Volume 3, Glee Cast
Featuring favorites from the show and some surprises, this third installment of the Glee cast's Christmas album will make a great stocking stuffer for that special "Gleek" in your life. There's even a Hanukkah song, for our Jewish friends. Mazel tov.

Unorthodox Jukebox, Bruno Mars
He may not be catching grenades in this album, but it doesn't mean Bruno Mars isn't one of the hottest and most successful Filipino-Americans to break out in the music scene. With 10 new songs and a ferocious gorilla (also the name of one of his new songs) on the cover, this album looks to be an awesome sophomore addition to Mars' growing career.
DVDs

The Bourne Legacy, Universal
The fourth edition in the Bourne film series, Legacy follows another member of the government's espionage program, Operation Treadstone. Jeremy Renner, who's portrayed other action heroes in the latest Mission Impossible and Avengers films, takes over the leading role from Matt Damon.

Ted, Universal
From Seth MacFarlane, creator of Family Guy, John (Marky Mark Walberg) wishes his teddy bear was real, and his wish is granted. Now, as John grows older, the foul-mouthed, pot-smoking Ted must come to terms with his friend's growing relationship with Lori (Mila Kunis).
Tags: Bruno Mars, Glee, Jeremy Renner, Mark Walberg, Matt Damon, Mila Kunis, Seth MacFarlane, Steve Aoki, Ted, The Bourne Legacy, Unorthodox Jukebox